Politics
Twitter Fined For Multiple Campaign Finance Violations — When Will The Nazi-Style Censorship Be Stopped?
While Twitter and other social media giants continue to violate the law concerning free speech with their Nazi-style censorship, Twitter has just been fined for multiple campaign finance violations.  Of course, that money is nothing more than a shakedown by government for money.  That same government is not acting on behalf of the people to make them follow the law when it comes to platforms and publishers.
Tyler Durden has the story.
Attorney General Bob Ferguson announced Tuesday that Twitter would pay $100,000 to Washington's Public Disclosure Transparency Account after violating state campaign finance disclosure laws.
From 2012 to 2019, Twitter received nearly $200,000 for campaign ads but failed to follow Washington disclosure laws by unlawfully failing to maintain public records about the political ads that ran on the platform has resulted in a $100,000 fine.
Jack Dorsey, Twitter's chief executive, said in October 2019 that the social media platform would ban all political ads due to misleading messaging by some candidates.
"WE'VE MADE THE DECISION TO STOP ALL POLITICAL ADVERTISING ON TWITTER GLOBALLY. WE BELIEVE POLITICAL MESSAGE REACH SHOULD BE EARNED, NOT BOUGHT. WHY? A FEW REASONS…," DORSEY TWEETED LAST YEAR.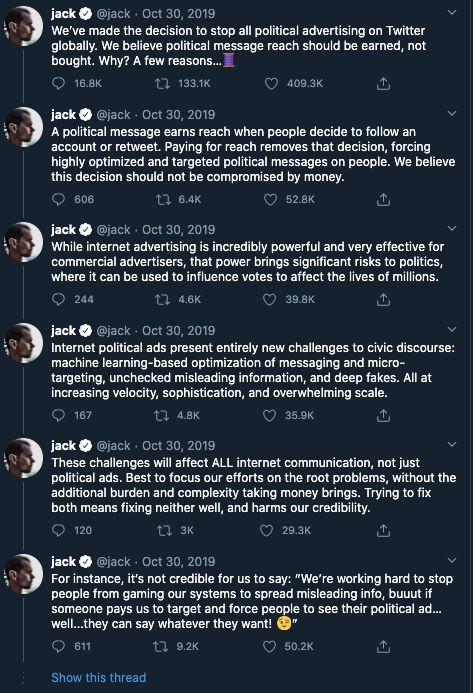 The judgment, filed Tuesday in King County Superior Court, notes that at least 38 Washington candidates and political committees paid $194,550 for political advertising on the platform between 2012-2019.
"Transparency in political advertising is critical to a free and informed electorate," Ferguson said. "Whether you are a local newspaper or a multinational social media platform, you must follow our campaign finance laws."
"THE PUBLIC DISCLOSURE COMMISSION APPRECIATES THE SHARED COMMITMENT OF THE ATTORNEY GENERAL'S OFFICE TO VIGOROUS ENFORCEMENT OF THE STATE'S CAMPAIGN FINANCE LAWS," PUBLIC DISCLOSURE COMMISSION CHAIR DAVID AMMONS SAID. "THE PEOPLE OF WASHINGTON, IN THEIR OVERWHELMING VOTE FOR THE DISCLOSURE INITIATIVE 276 NEARLY A HALF-CENTURY AGO, CREATED ONE OF THE NATION'S MOST EMPHATIC DEMANDS FOR TRANSPARENCY AND ACCOUNTABILITY IN CAMPAIGN FINANCE REPORTING. AS POWERFUL NEW PLATFORMS AND COMMERCIAL ADVERTISERS EMERGE IN THE CAMPAIGN WORLD, WE MUST STAY VIGILANT IN DEMANDING FULL COMPLIANCE WITH ALL DISCLOSURE LAWS OF WASHINGTON STATE."
Washington's Public Disclosure Commission first received notice from an independent researcher on Oct. 30, 2019, about Twitter's potential violations.
The irony here is, of course, that Twitter – which has been doing everything it can to crack down on political "misinformation" – is now being dinged for failing to share information about its political advertising operation.
A measly $100,000?  That's it?  Well, while they rob others who have used their platform to build their businesses, government has done nothing to bring any justice against Twitter for violating federal law.  For more on how that works, listen to my interview with Jason Fyx, who is currently in the Ninth Circuit Court of Appeals in a lawsuit with Facebook.
Fyk vs. Facebook: How One Man Is Exposing Facebook's Crimes Against The People
Cross-posted with DC Clothesline
Related:
If you haven't checked out and liked our Facebook page, please go here and do so.  You can also follow us on Twitter at @co_firing_line.  Facebook, Google and other members of the Silicon Valley Axis of Evil are now doing everything they can to deliberately stifle conservative content online, so please be sure to check out our MeWe page here, check us out at ProAmerica Only and follow us at Parler.
If you appreciate independent conservative reports like this, please go here and support us on Patreon and get your conservative pro-Trump gear here.
While you're at it, be sure to check out our friends at Whatfinger News, the Internet's conservative front-page founded by ex-military!
And be sure to check out our friends at Trending Views: