Terrorism
NYC's (Latest) Jihad Leads Back To Mid East Pilots: Officaldom/Media Cover Ups, Open Sesame To Domestic Islamic Terror!
Author: Adina Kutnicki
AS always, investigations are only as reliable as corroborative evidence brought to the fore, that which inevitably leads to a truthful conclusion, regardless of where it lands. That being said, sans proper backgrounder information, little makes sense or falls into place for the average onlooker. 
RESULTANT, as a first-tier backgrounder, know that every airplane which "mysteriously" exploded or disappeared over the years, in one way or another, had causal links to Islamic terrorism. And it would take writing another book to catalog the volumes of evidence. Heavy lifting. Believe it – or not. It's your call.
SPECIFICALLY, re the continuous cover up of Islamic terrorism within America, it is more than instructive to cite a key and main exhibit which officialdom actively buried, and continues to lie about to date. Not only that, its many moving parts involved a truck bomb-like load of evidence, as opposed to the examination of fragments from a plane's explosion. The point being, whichever instrument of death is used is beside the point. Yes, the truth (most) always can be found in the cover up.
SO it is along this continuum of fiery trajectories deployed by Allah's Muslim Terrorists that Americans (in general, Israelis and westerners alike) must never become pre-occupied with, that is, by allowing officialdom to distract via this and that jihadi-named hydra, nor their method of delivery. Six of one, half a dozen of another.
EFFECTIVELY, whether they operate under the sword and banner of one or another jihadi group – for instance, those who blew apart the Murrah Federal Building in 1995 in Oklahoma City, or Islamists who imploded the Twin Towers and executed every other attack in between – is beside the point. In other words, their main emphasis has nothing to do with any group allegiance, rather, their missions have everything to do with Mohammedan teachings, the roots, of Islam. Simple as that. Critical. Core.
BACK to the cover ups. To wit, 21 years after the fact, countless still believe that two anti-government domestic terrorists were solely responsible for the gravest domestic act of terror pre 9/11/01. Not by a long shot.
(The
Black Standard
of ISIL aka ISIS, which was adopted by Abu Sayyaf)
FOR the record, Mid East terrorists, primarily, from the Iraqi Military intelligence Service – Saddam Hussein's Republican Guard – coupled with their Islamic jihadi counterparts in the Philippines, Abu Sayaff, brought devastating carnage to the homeland by way of Oklahoma City.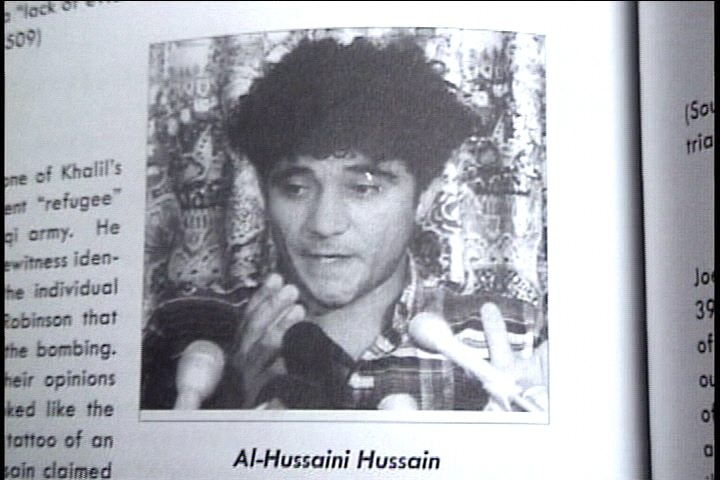 IN fact, Clinton Inc.'s mouthpieces covered up each and every jihadi fingerprint and footprint attached to the 1995 wreckage. And, for the record, had Bubba Clinton not been in financial bed with Arab/Muslim regimes, well, 9/11/01 could have been stopped. Suffice to state, it was officialdom's cover-ups – starting with the opening of jihad on U.S. soil in 1990, via the brazen Islamic assassination of Rabbi Meir Kahane in NYC – which opened up the door to Allah's Muslim Terrorists on U.S. soil.
NOW that that is settled and in plain view, let's revert back to the present. More specifically, and most recently, let's segue to NYC as one specific exemplar. As an aside, it is this (American-Israeli) investigative journalist's hometown 'hood.
STILL yet, where do Mid East pilots fit into the purposefully misreported, hence, misdirected, IED pressure cooker attack on September 17, 2016 in NYC, as if it was the work of a so-called lone wolf jihadi? Everywhere.
BUT before we get to that, let's examine just one mainstream report via US Today:
At a news conference before the discovery of a second device, Mayor Bill de Blasio said the explosion injured at least 29 people. He said the blast was intentional, but there was no specific terrorist threat.
A device believed to be a pressure cooker was subsequently found on West 27th Street, four blocks from the initial blast on West 23rd, according to the New York Police Department. "The suspicious device on West 27 Street in Chelsea has been safely removed by the NYPD Bomb Squad," the police department tweeted at 2:24 a.m. ET Sunday.
"There is no specific and credible threat to New York City from any terror organization,"  de Blasio said late Saturday at the news conference….
THEN, let's segue to this site's excerpted reportage:
LET's take a brief look-back into some critical backgrounder. They will help to clarify why bombs – whatever variant – are blowing up, back-to-back, in America's streets.
CONSEQUENTIALLY, since 2013, this site has placed heavy emphasis on said incendiary terrain. Readers, is anyone listening??
MORE specifically, the eventual (and inevitable) usage of IED's – as a stepped-up method to jihad in America – was repeatedly noted. Basically, its flooring includes variants of pipe-bombs, pressure cookers, and the like. Said prognostication, prediction of sorts, pre-dated the jihadi blow up during Boston's Marathon on April 15, 2013. However, the following was even more explicit, and it was dated June 2014….
TRENCHANTLY, how many patriots even heard about the aforementioned WMD dangers implanted by Allah's Muslim Terrorists on U.S. soil, aside from this site's publication in June 2014? And where is the reporting from the MSM on such an existential danger? Besides, don't they possess their own counter terror and counterintelligence sources? After all, how much heavy-lifting is this investigative journalist supposed to exert? Moreover, what is the (Islamic-captured) DHS doing about it?
ALAS, fast forward to yesterday (September 17, 2016), whereby twin pipe-bomb attacks exploded. And the past being prologue, indeed, (one of) yesterday's Islamic attack contained a pressure cooker connection, which is akin to Boston's carnage in April 2013. Coincidence? Moreover, a bomb factory element was also an under-reported factor of the jihadi shooting in San Bernardino, CA  (December 2015), perpetrated by Syed Farook and Tashfeen Malik. Hmm.
ONTO jihad in New Jersey…..a targeted attack on U.S. Marines and their supporters! Incontestably, a hop, skip and a short ride to NYC, their next coordinated attack….
ONTO the jihadi pilots at hand….
A "duo came across the airline tote bag on the sidewalk between 8 and 9 p.m. on W. 27th St. between 6th and 7th Aves. They removed the pressure cooker containing the explosives and walked away with the luggage, leaving the unexploded device behind."
The media initially told us that these duo were homeless bums. Now what is the chances of these "duo" being rather well off two Muslims and not homeless as the media told us?
This is exactly what happened. And it even gets worse, the two were not bums as we are told, but civilian Muslim PILOTS from Egypt.
ABC News stated that the two men who came across a travel bag containing an undetonated pressure cooker bomb in Chelsea have been identified as Egyptian pilots who have returned to their native country, according to the report. Law enforcement sources told ABC News the two men seen pulling the bomb from a bag on W. 27th St. on Sept. 17 — then walking off with the bag — are Egypt Air pilots.
This is what they are telling us so far.
But how about the more logical scenario. These two EgyptAir pilots were very likely also Muslim terrorists. They came with the bomb which was in the bag. They took the pressure cooker bomb out of the bag, placed the bomb, took the bag and left.
How can the scenario by the FBI make any sense? Why would two seasoned pilots accidentally find a bag, open it, see a wired pressure cooker, not know its a bomb, rob the bag (without the pressure cooker) and then cut and run? Would any logical mind buy this scenario? A bomb in a bag accidentally found by two Muslims from Egypt?
They must have known it's a bomb because they were part of the cell.
How does this media version make any sense? Here is a photo of both, the Muslim pilots and the pressure cooker. Would anyone believe that these two pilots not know what this is all about after they see this specific pressure cooker with wires dangling from it? How can anyone believe that these two had no training being pilots about recognizing explosives?  Or is it that the FBI does not want to alarm us?
If they announced suspicion that these EgyptAir pilots are possible terrorists, now we must deal with all the flights coming out of the Middle East into the U.S.This would make a huge ruckus, especially in the midst of an election.
And how far-fetched is our theory here? It is not unlikely, but possibly is the case.
For example, when Shoebat.com in May reported that EgyptAir Flight 804 which crashed into the Mediterranean Sea while traveling from Paris to Cairo, we reported that the possibility of foul-play was extremely high. First of all, the pilot was Muslim Brotherhood. Now investigators just found explosive residue (TNT) on the wreckage. We were correct. French news outlet Le Figaro reported that:
"French investigators have found traces of TNT on the plane's debris. This could potentially support the theory that there was an explosion aboard the plane prior to the crash. The origin of the traces isn't immediately clear, but their discovery seems to be inciting a disagreement between the French and Egyptian authorities. Egyptian officials didn't let the French investigators examine the debris in greater detail, according to Reuters:

Egypt wishes to write a joint report with France to validate the presence of TNT on the debris. France has refused to do this because the investigators were not able to carry out an adequate inspection to determine how the traces could have got there, Le Figaro said.

Responding to Le Figaro's report, sources on the Egyptian-led investigation committee denied the French team's work had been obstructed.

"None of the investigators were prevented from participating in investigations, but rather the work is being done jointly according to the conduct of the investigative process," one of the committee sources said.
Fears are growing that EgyptAir Flight 804 was downed by a 'laptop bomb' device similar to one which blew a man out the side of a passenger jet. Such a device could explain the reports of multiple smoke detectors going off inside the jet before it crashed. If this is the case, it could mean that terrorists have discovered a way of evading airport security checks.
And besides being able to smuggle explosives into a plane. When it comes to even the pilots of EgyptAir, there is one who influenced the pilot of MS804. Shoebat.com in May reported on Flight MS804 pilot Captain Ahmad Shukeir was an Islamist involved with Amr Khaled a well-known Muslim Brotherhood Jihadi of the first class known in Egypt.
We also provided the testimony of Osama Abdel Basset, the captain in charge of the air hospitality in Egyptian Air says it all: "The Captain Mohammed Shakeir, the pilot of that fateful flight" had organized a "last supper" knowing he is "about to die":
he called on his colleagues before the incident a few days to lunch at his house hinting that the end is near, the end of his life that is and that he is ready to meet his maker and gave his farewell. He was bidding them [his friends] farewell with words that came out of his mouth for the first time in his life"
This was from Al-Hurra News which titled its article "The Call Of Death Embrace The Pilot Of The Egyptian Plane During His Last Supper". 
WOW…just calculate the fact that a recent U.S. census report noted: Record 42.4 million immigrants, 23% of school kids, Muslims biggest jump. You got that? Extrapolate the upcoming dangers!
ABOVE all else, America and Israel – its twin rooted western spearhead – must survive to save the west. And this survival depends upon the most significant two-prong volte-face: mental toughening and practical applications.
Westerners must understand that Islam is violent, dangerous, and has never been a peaceful ideology. It has NO place within the civilized west. None!