Politics
How Does Hillary Lie in Debates..Let Us Count the Ways
One of my favorite parts of Saturday Night Live was Jon Lovitz as the pathological liar.  I remember a skit he did where he claimed to be the husband of Morgan Fairchild.  Every time he mentioned Fairchild, he would say, "Whom I've seen naked."  But his performance doesn't hold a candle to Hillary Clinton's in last night's debate.
Her claim that she received more money from teachers and teachers unions reminded me of Gary Hart challenging the press over allegations he was cheating.  They caught him in the act and he was forced to withdraw from the race.
Hillary challenged the press to fact check her using Open Secrets, an organization that compiles financial information gleaned from reports to the FEC.  (Federal Election Commission)  She lied because Open Secrets does not have that breakdown on their site.
The information is available by industry.  Here is the breakdown thus far for 2016:

Obviously education is far down on the list.  To check further because of the possibility that education catches up later in the campaign, let's see what the numbers were in 2008:

Again, we see her assertion is a lie.  Let's see where the money for her Senate campaign came from: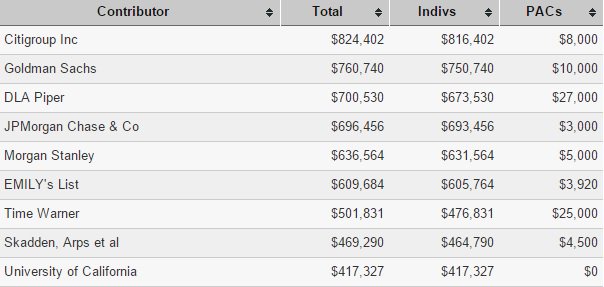 Charts taken from The Daily Caller
I think we can count that as debunked.
Hillary's second lie is that ISIS is using video of Donald Trump to recruit for ISIS.  I fail to see the relevance, since I believe our next president should be hated by ISIS and radical Islamic fanatics.  She has to learn that reset buttons just don't work.  Many people including liberal groups have fact-checked the videos.  The NYT said there is no such proof of videos.  PolitiFact rates her claim as "FALSE".
Her communications director, Jennifer Palmieri, appeared on Sunday TV with George Stephanopoulos and stuttered and stammered in her attempt to defend Hillary:
"Um, the uh, uh, you know, Donald Trump, I think, was talking–uh, you know, what Secretary Clinton was saying last night is that one of the many dangerous things about Donald Trump is that, uh, his hot rhetoric, saying we shouldn't allow Muslim refugees into the country, is being used, and this is something that has, who monitors social media and uh, on ISIS, has said–"
"Well, what they have said is that they are using him–he is being used in social media by ISIS as propaganda.  She didn't have a particular video in mind, but he's being used in social media, and uh, you know, what they haven't found is the video Mr. Trump keeps talking about, this alleged mystery video of thousands of people in Jersey cheering the collapse of the World Trade Center. But it is true he is being used in social media by, um, ISIS, to, to help recruit and propaganda."
"She's not referring to a specific video.  But he is being used in social media by ISIS as propaganda."
So, even her communications director admits Hillary lied.  Let's move on.
Hillary claims that we are right where we need to be in our fight against ISIS.  She says under no circumstances should thre be American boots in the ground in Iraq or Syria.  They hold a huge swath of Iraq and Syria and are now spreading out across the planet and was responsible for the Paris massacre.  That claim is Obamalike.  The economy sinks and Obama announces he has fixed the economy.  Obamacare costs go through the roof.  Obama announces that Obamacare is working better than expected, despite exploding premiums and higher deductibles and co-pays.
Even top Democrats like Diane Feinstein and Adam Schiff admit Obama's policies on ISIS are senseless.
ISIS will never be defeated from the air alone or by outnumbered and equipped forces fighting them now.  Lie number three.
Finally, Hillary claims Obamacare is working great and only needs a few tweaks.  Tell that to the working poor who still can't afford medical care but have to pay the penalties for not being covered.  The non-working population benefits, everyone else is worse off than they were before.  Her remarks are interesting since she recently stated that Obamacare is forcing people into part time jobs.
A liar lying….Brilliant!!
Related:
If you haven't checked out and liked our Facebook page, please go here and do so.