Politics
Reports: Never-Trumper Mitt Romney caught using secret 'Pierre Delecto' Twitter account
On Monday, Breitbart's John Nolte reported that Mitt Romney, the alleged "Republican" senator from Utah who failed in his 2012 bid against Barack Obama, is using a fake Twitter account with the name "Pierre Delecto" to champion himself.
According to Nolte:
It took a writer at Slate about fourteen seconds to discover that Mitt Romney, a sitting United States Senator, uses the name Pierre Delecto to run all around Twitter defending… Mitt Romney.

And Romney has already been forced to confirm that "Pierre Delecto" is indeed a fella named Willard.

First off, "Pierre Delecto" sounds like "Carlo Danger's" serial killing partner. But whereas disgraced former congressman Anthony Weiner used the pseudonym "Carlos Danger" to troll for underage girls, Romney uses "Pierre Delecto" to whimper like a Fredo for a little frikkin' respect.
i *believe* i may have found mitt romney's secret twitter account https://t.co/SNVUeqbLoY

— Ashley Feinberg (@ashleyfeinberg) October 20, 2019
Nolte said the account has been made private now that Romney has made himself a laughingstock on the Internet.
"Thankfully, though, before he ran away and hid like a girl, we were able to discover just how much Mitt Romney loves him some Mitt Romney, and when Mitt Romney doesn't get his due, Mitt Romney is there to say something about the greatness of Mitt Romney," Nolte added.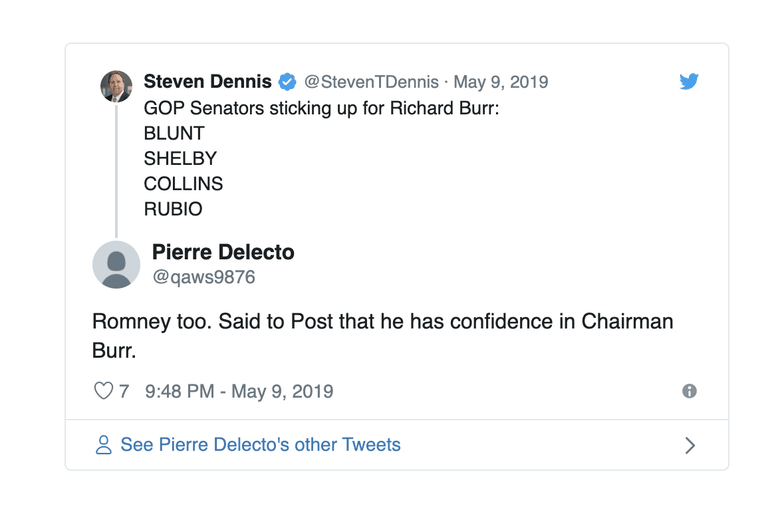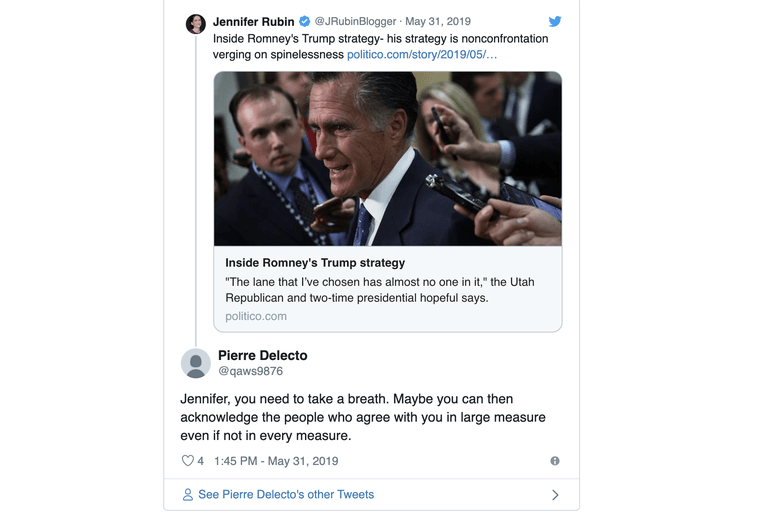 And there's more:
https://twitter.com/JakeDaveWebster/status/1186061111495282688
https://twitter.com/safarishane/status/1186061301413535745
Also, if you haven't seen already, the email for password recovery (didn't see this mentioned in the article) pic.twitter.com/H8M0tEXbms

— Aric Toler (@AricToler) October 20, 2019
Hmmm…
Nolte goes on to explain how pathetic this really is:
He's so insecure and hungry for approval, but so cowardly and craven in not wanting to correct or criticize his abusers in the media directly, that he cowers in their mentions under the cloak of just another anonymous nobody.

Why doesn't Romney use his verified Twitter account to makes these points, to set the record straight? Why doesn't he reach out directly to those in the media when he wants something corrected?

I'll tell you why… because he's a whimpering, abused little quisling of a man — so intimidated and defeated by the corrupt media that when he's not kissing abuser ass on the pages of the Atlantic, he can only try and regain some of his pride by hiding in the dark and rebelling in a way that isn't even as nervy as ringing a doorbell and running.
"What a catty, cowardly, neurotic, little backstabbing gerbil Mitt Romney is," Nolte said.
We agree.
Related:
If you haven't checked out and liked our Facebook page, please go here and do so.  You can also follow us on Twitter at @co_firing_line.  Facebook, Google and other members of the Silicon Valley Axis of Evil are now doing everything they can to deliberately stifle conservative content online, so please be sure to check out our MeWe page here, check us out at ProAmerica Only and the new social site, Hardcore Conservatives.
If you appreciate independent conservative reports like this, please go here and support us on Patreon and get your conservative pro-Trump gear here.
While you're at it, be sure to check out our friends at Whatfinger News, the Internet's conservative front-page founded by ex-military!
And be sure to check out our friends at Trending Views: