Politics
Prelude To War: Biden Targets Russian Sovereign Debt, Expels 10 Diplomats In Sweeping Sanctions Action
And here we go again, taking Americans' eyes off the fraudulent tyrant in the people's White House and pointing the finger at another world leader.  This is the game that is played in DC hoping you will fall for it instead of dealing with the criminals there.  On  Thursday, the White House expelled 10 Russian diplomats from the Russian Embassy in DC, and Biden banned American banks from purchasing Russian sovereign debt  beginning on June 14.
Tyler Durden has the story at Zero Hedge.
update (0938ET): Russia was quick to threaten that swift retaliation is coming, with the tit-for-tat ramping up once again as tensions over Ukraine are on a knife's edge. Russian Foreign Ministry spokeswoman Maria Zakharova countered that "such aggressive behavior will undoubtedly trigger a resolute retaliation."
She announced that the ministry has now summoned the US ambassador to Moscow for a "hard conversation" but didn't reveal details of what form the retaliation will take. 
"Washington should realize that it will have to pay a price for the degradation of the bilateral ties," Zakharova said, asserting that "the responsibility for that will fully lie with the United States."
Meanwhile that hoped-for face-to-face summit Biden proposed for he and "killer" Putin this week to be held "in a third country in the coming months" is definitely off…
BREAKING: The Kremlin says no summit between Vladimir Putin & Joe Biden can be arranged in the "near future."

It comes as US media reports the Americans are set to impose more sanctions on Russia. https://t.co/YSn0YgMmwc

— Bryan MacDonald (@27khv) April 15, 2021
* * *
update (0853ET): As expected the White House and Treasury's actions against Russia today are sweeping and have some serious teeth, with the US expelling ten of its diplomatic personnel from the Russian Embassy in Washington, which is said to include intelligence officials. 
Further, the US will ban American banks from buying new Russian sovereign debt starting June 14. The White House fact sheet detailing the Biden executive order's multi-layered action details:
Treasury issued a directive that prohibits U.S. financial institutions from participation in the primary market for ruble or non-ruble denominated bonds issued after June 14, 2021 by the Central Bank of the Russian Federation, the National Wealth Fund of the Russian Federation, or the Ministry of Finance of the Russian Federation; and lending ruble or non-ruble denominated funds to the Central Bank of the Russian Federation, the National Wealth Fund of the Russian Federation, or the Ministry of Finance of the Russian Federation. 
The directive further notes the "authority for the U.S. government to expand sovereign debt sanctions on Russia as appropriate." The measures sparked a sell-off in Russian assets, with the rouble immediately dropping as much as 2.2% in early trading, coming to settle at 1.5% down to trade at 76.89 hours later.
As we previewed earlier, Treasury further designated six Russian technology companies related to the SolarWinds hack, and sanctioned 32 entities and individuals for 'interference' efforts in the 2020 presidential election.
And then there's the infamous "Afghan bounties" allegations…
The Administration is responding to the reports that Russia encouraged Taliban attacks against U.S. and coalition personnel in Afghanistan based on the best assessments from the Intelligence Community (IC).  Given the sensitivity of this matter, which involves the safety and well-being of our forces, it is being handled through diplomatic, military and intelligence channels.  The safety and well-being of U.S. military personnel, and that of our allies and partners, is an absolute priority of the United States.
And what's more, the US is now laying definitive blame on Russian intelligence for the SolarWinds hack – yet still no reference to particular 'smoking gun' evidence…
Today the United States is formally naming the Russian Foreign Intelligence Service (SVR), also known as APT 29, Cozy Bear, and The Dukes, as the perpetrator of the broad-scope cyber espionage campaign that exploited the SolarWinds Orion platform and other information technology infrastructures. The U.S. Intelligence Community has high confidence in its assessment of attribution to the SVR.

The SVR's compromise of the SolarWinds software supply chain gave it the ability to spy on or potentially disrupt more than 16,000 computer systems worldwide. The scope of this compromise is a national security and public safety concern. Moreover, it places an undue burden on the mostly private sector victims who must bear the unusually high cost of mitigating this incident.
* * *
Sources tell Reuters the Biden administration is preparing to announce a series of sanctions against Russia as soon as Thursday for election interference and the alleged SolarWinds hack. This is also happening as Russia amasses tens of thousands of troops near the Ukrainian border and convoys of tanks as a flare-up in tensions in eastern Ukraine could be imminent. 
Several Russian officials are expected to face expulsion from the US in a new round of sanctions. There are about 30 entities also expected to face sanctions for election interference and the alleged SolarWinds hack. As many as ten Russian could be expelled, the sources continued.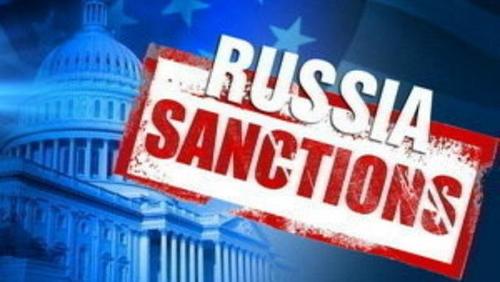 This is all happening as storm clouds gather over Europe's eastern flank. 
On Sunday, US Secretary of State Antony Blinken told NBC's "Meet the Press" that Russia faces "consequences" if at any point it acts "aggressively" towards Ukraine: 
"I have to tell you I have real concerns about Russia's actions on the borders of Ukraine," Blinken warned. "That's why we're in very close contact, in close coordination, with our allies and partners in Europe. All of us share that concern."
"President Biden's been very clear about this. If Russia acts recklessly, or aggressively, there will be costs, there will be consequences," the secretary of state said further.
But when pressed on potential military options on the table, he responded, "I'm not going to get into hypotheticals."
The Biden administration appears to be plotting their revenge against Moscow for the alleged SolarWinds hack and election interference. 
We would suspect if the US officially announces the sanctions tomorrow – a tit-for-tat sanction war would ensue, further straining relations between Washington and Moscow while the threat of war on the eastern Ukraine border rises. 
Get ready for the media to push this agenda because their COVID narrative has fallen apart so they must get a new bad guy to point Americans to rather than do their jobs and expose the corruption in our own government.
Tim Brown is an author and Editor at SonsOfLibertyMedia.com, GunsInTheNews.com and TheWashingtonStandard.com. He is husband to his "more precious than rubies" wife, father of 10 "mighty arrows", jack of all trades, Christian and lover of liberty. He resides in the U.S. occupied Great State of South Carolina. . Follow Tim on Twitter. Also check him out on Gab, Minds, MeWe, Spreely, Mumbl It and Steemit
Cross-posted with Sons of Liberty Media
Related:
Turn your back on Big Tech oligarchs and join the New Resistance NOW!  Facebook, Google and other members of the Silicon Valley Axis of Evil are now doing everything they can to deliberately silence conservative content online, so please be sure to check out our MeWe page here, check us out at ProAmerica Only, and follow us at Parler, Codias, Social Cross and Gab.  You can also follow us on Twitter at @co_firing_line.
If you appreciate independent conservative reports like this, please go here and support us on Patreon, get your conservative pro-Trump gear here and check out some great pro-Republican gear here.
While you're at it, be sure to check out our friends at Whatfinger News, the Internet's conservative front-page founded by ex-military!
And be sure to check out our friends at Trending Views: