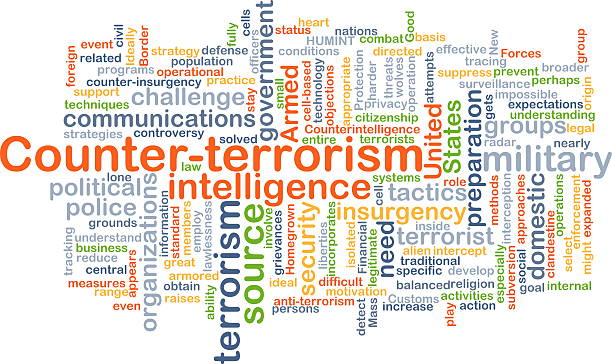 Readers may, or may not, be familiar with the driving forces behind this site. And while there are many moving parts, the fact remains that the security of the U.S. and Israel are its core components. 
More specifically, years of networking throughout the U.S. landscape paid huge dividends, in so far that a select group of security types within various intersecting fields seek me out, even as I learned at some of "their knees", so to speak. Similarly, upon coming to Israel, new relationships were forged, and old ones were renewed. Let's just leave it at that. 
Be that as it may, like most professions, conferences are a part of professional development. However, when it comes to Intelligence & Counter Terrorism, well, certain aspects must remain off the radar, hence, the "closed-door" reference. Incontestably, tactical and strategic measures must stay behind closed doors. The reasons why require no explanation.
On the other hand, the overall conclusions drawn are for public consumption, after all, they are in the cross-hairs. 
Still yet, before we head to today's (having concluded a little while ago) Intelligence wrap up, a brief backgrounder is in order.   
Back in August, the 17th to be exact, I received a special invite – a shout-out, if you will – to a U.S. based "closed-door" Intelligence Conference. Several high-profile names in counter-terrorism will be in attendance. Alongside these experts, will be others who are, out of necessity, "unknown" to the general public. In the shadows.
For the most part, conferences in this arena are top-laden with academics whose concentrations are in security studies and international relations, as well as security related government officials. In tandem, an emphasis is placed on counter-terrorism and intelligence.
And while there will be two high-level (non-politicized) academics in the aforementioned intersecting fields, the crux of the conference will focus less upon theoretical matters, but more on practical applications. Facts on the ground.
In other words, the "guests of honor" will be several counter-intelligence agents, whose identities, if revealed, would not only seal their fates, but compromise countless operations. To wit, non-disclosure forms will be signed by all, with the caveat of stiff (financial) penalties, if broken. Perhaps, criminal ones alike.
As is said, this is where the "rubber meets the road." Effectively, my participation – through a comprehensive and detailed report via confidential sources – will complement some of their findings, that which crisscrossed between the U.S. and Israel, and ricocheted into the wider Middle East.
To date, aside from the publication of my book, BANNED: How Facebook Enables Militant Islamic Jihad", this conference – in both its import and scope – surpasses all. This is no small admission. Even so, upon relating to the head of the conference that traveling from Israel to the States – for a face-to-face presentation – is not viable at this time, an alternative arrangement makes my participation possible.
In this regard, it became my responsibility to access a highly "impenetrable" video-conferencing system – which has been done. Yes, "no man is an island."
So while I prep for this major task, it must be noted: none of it would be possible without the invaluable assistance of my biggest cheerleader – you know who you are! In recognition, thanks for "securing" my participation to the max – and for so much more, גבר שלי …..
In light of the above, the following were its bullet points:
Despite years of committing vast financial resources, blood, and treasure, the U.S. and Israel are even more imperiled than prior to the so-called "fight against terror" began – post 9/11/01 – and gained the west's attention. Don't let the leaders convince otherwise.
That a preponderance of this dangerous state of affairs, precipitously, leads straight back to the leadership – via their failure to properly identify the real enemy, that is, Islamic Jihad, an underpinning of Islam's basis, Shariah Law. Their absolute lack of identification, allergic-like, has caused untold death and destruction, the likes of which has yet to reach its (incalculable) peak.
Without such identification, a critical aspect to this civilizational war – unambiguously, it was identified as such – is totally off-limits. Intrinsically, the informational front is neglected to the degree that an "amorphous" enemy is creating terror, and that said terror is consigned to a "bogeyman" status. Hence, Islamic Jihadis are often called "mentally ill", as opposed to Mohammedans. Thus, they are free to slaughter at will, sans any retribution from the citizens at large.
Furthermore, the U.S. is fighting with multicultural blindfolds, while Jihadis fight to the death. Tragically, Israel is following Washington's lead – even though its top leaders are wholly aware of Islam's centuries-long, uncompromising war against the west.
In turn, those really leading the U.S. "war on terror" (to a similar degree, Israel's) are media, academic, cultural, and legal elites, even though those dying on its front-lines are courageous soldiers, with innocent civilians caught in the cross-fire.
Of course, the same can be said for the entire west, but the conference's laser beam focus was on the twin pillars of western civilization – the U.S. and Israel.
Trust, the high-level professionals in attendance are the best of the best – bar none. Aside from placing their lives on the line on a continuous basis, they are the unsung heroes. If "unmasked", their days would be numbered.
Significantly, from the collection of Intel to its ultimate analysis, seguing, to the necessary preventive measures, these Intelligence professionals are right on target. In fact, their ability to fluidity move and adapt to an ever-changing landscape is awe-inspiring. Heart-stopping. It is akin to watching a high-wire act without a net – and then some.
As to the Counter Terrorism professionals – the complementary side to the Intel folks – they are tasked with what is referred to as "counteraction." Their agile responses to unfolding terror attacks and crisis performance can't be quantified.
Moreover, the "operational" slide shows brought home the nature of the Islamic-infused beast – yes, they were identified as such. Mind you, those who fight them to the death so that citizens won't have to, not only have a right to call them what they are, but an obligation to do so. Not only that, particular leaders and their surrogates were called out, and their extreme negligence was placed front and center. On the record.
Conclusively, the following was their considered and overarching analysis:
This war will not only last for decades, but its ultimate outcome will hardly depend upon superior firepower. Rather, the victor will be the side which has no qualms about identifying the enemy, and terrorizing it into submission!
In the interim, if an immediate volte-face is not on the national agenda, the outlook is very grim. Nation after nation will fall within the west – and with the U.S. part and parcel to the domino effect. This won't occur in actual battle, but through a slow death-like process.
The analogy of the boiling frog was brought up and emphasized. Consider the ways in which cultural identities become unrecognizable, and this is the crossroads at which the U.S. is at.
 Dear reader, dare you guess: "who's on first?"
{MEMO: FB's censors are limiting the sharing of Adina Kutnicki: A Zionist & Conservative Blog! Indeed, the following message from FB's censors is crystal clear:
MESSAGE FAILED