Politics
Biden: Out Of Touch And Out Of Town
In a hastily called news conference Monday afternoon President Joe Biden and his advisors tried to control the damage of this past weekend. But it may be too late. Biden not only lost Afghanistan, he lost credibility, and with that, the American people.
A defiant Biden said he did not regret his decision to withdraw American forces from Afghanistan, while acknowledging that the country's collapse to the Taliban came much sooner than U.S. officials had anticipated.
"I stand squarely behind my decision," he said from the White House after returning from his vacation at Camp David.
It was a strange narrative the President and his team tried to craft. On the one hand, they want to project strength and confidence in their decisions of the past 72 hours, while on the other hand, blaming others for their overwhelming defeat.
Biden cast blame on former President Donald Trump, arguing that his administration's hands were tied by the plan Trump set in motion last year.
He also repeatedly excoriated Afghanistan's elected leaders and military for not putting up more of a fight against the Taliban. He said that they in essence squandered the time and money America spent to build up its security forces.
But the damage is done. Just two months ago, Secretary of State Antony Blinken said America's planned withdrawal from Afghanistan wouldn't happen "from a Friday to a Monday."  Yet that is exactly what happened. We saw over the past weekend twenty years worth of nation-building collapse.
The adage, a picture is worth a thousand words, applies here. Biden and his team will no doubt attempt to change the narrative by overwhelming us with words. But we won't believe them. How can we after we saw American citizens run out of Kabul just as we were forced out of Saigon in 1975? We all saw it and we cannot unsee it.
Americans for Limited Government President Richard Manning is calling for the immediate removal from office of everyone who had a hand in planning the U.S. withdrawal from Afghanistan. "Let's start with Joe Biden," Manning said. "He has blood on his hands. And if we, the American people, don't hold him and his entire team accountable, we, too, will have blood on our hands."
Sen. Rick Scott (R-Fla.) questioned Monday whether President Biden's Cabinet should remove him from office, a near impossibility, over the sudden collapse of Afghanistan.
Scott, who is widely viewed as a potential 2024 presidential candidate tweeted: "We must confront a serious question: Is Joe Biden capable of discharging the duties of his office or has time come to exercise the provisions of the 25th Amendment?"
After the disastrous events in Afghanistan, we must confront a serious question: Is Joe Biden capable of discharging the duties of his office or has time come to exercise the provisions of the 25th Amendment? https://t.co/l1bFrUdZH9

— Rick Scott (@SenRickScott) August 16, 2021
The Florida Republican's remarks echo calls from former President Donald Trump and his allies for Biden to step down, which began as the Taliban took control of the country and toppled the Afghan government.
While Senate Republicans have widely lambasted Biden for his administration's handling of the troop withdrawal, Scott is the only one so far to bring up the possibility of invoking the 25th Amendment, which lays out the presidential order of succession.
Under the 25th Amendment, which has never been used, the vice president and the majority of the president's Cabinet would need to determine he is no longer fit for office. Congress would then need to approve that process by a two-thirds vote in both chambers.
And in what may go down as the worst-timed email autoreply in history, White House Press Secretary Jen Psaki's email Sunday night said she would be "out of the office" from August 15-22. No one begrudges a hard-working press secretary a week's vacation. But an auto-reply to the media when Afghanistan falls to the enemy is a bush league mistake. The truth is, Psaki is probably working around the clock right now, whether she is actually on vacation or not. But, as they say in DC, the optics are awful!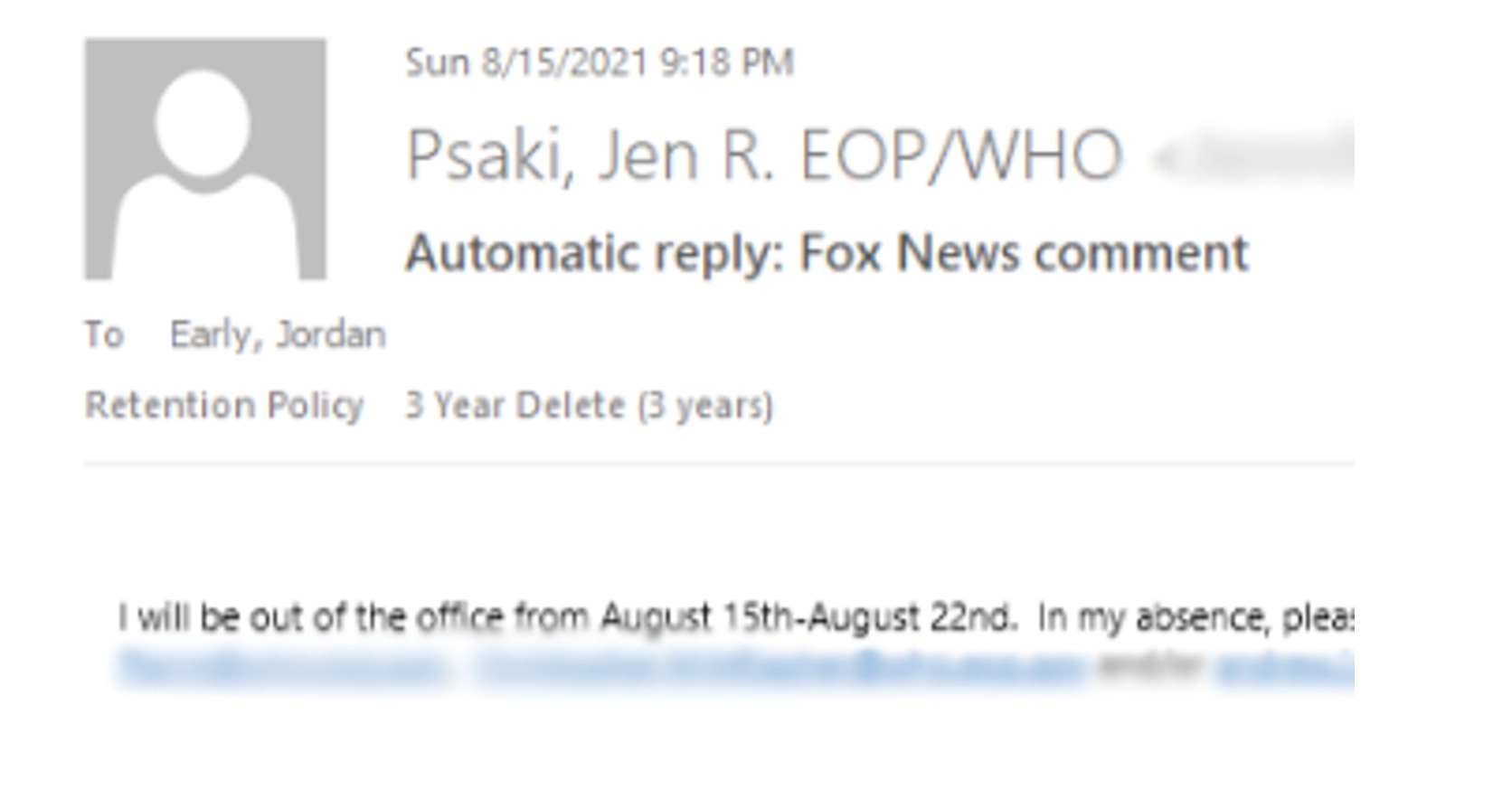 Over the weekend, the world watched as Taliban extremists took over a nation that we paid dearly to build and defend for 20 year. All while our top leaders were "out of office." 
Catherine Mortensen is Vice President of Communications for Americans for Limited Government.
Cross-posted with The Daily Torch
Related:
Turn your back on Big Tech oligarchs and join the New Resistance NOW!  Facebook, Google, and other members of the Silicon Valley Axis of Evil are now doing everything they can to deliberately silence conservative content online, so please be sure to check out our MeWe page here, check us out at ProAmerica Only and follow us at Parler, Social Cross and Gab.  You can also follow us on Twitter at @co_firing_line, and at the new social media site set up by members of Team Trump, GETTR.
While you're at it, be sure to check out our friends at Whatfinger News, the Internet's conservative front-page founded by ex-military!
And be sure to check out our friends at Trending Views: