Politics
Tucker Carlson SHREDS Biden's Pentagon Brass After Childish Attack On Network, Host (Video)
On Thursday, Joe Biden's Pentagon launched an offensive against Fox News host Tucker Carlson in response to his criticism of remarks made by the president.
"Some of it's relatively straightforward work where we're making good progress. Designing body armor that fits women properly, tailoring combat uniforms for women, creating maternity flight suits, updating requirements for their hairstyles," Biden said, prompting criticism from Carlson.
The Defense Department responded harshly, falsely claiming the host "dissed" diversity.  Part of the coordinated assault included a somewhat juvenile report titled, "Press Secretary Smites Fox Host That Dissed Diversity in U.S. Military."
"Smites?" "Dissed?" Yes, that's what the official Pentagon website said.
Which Candidate Do You Support in the Republican Primaries?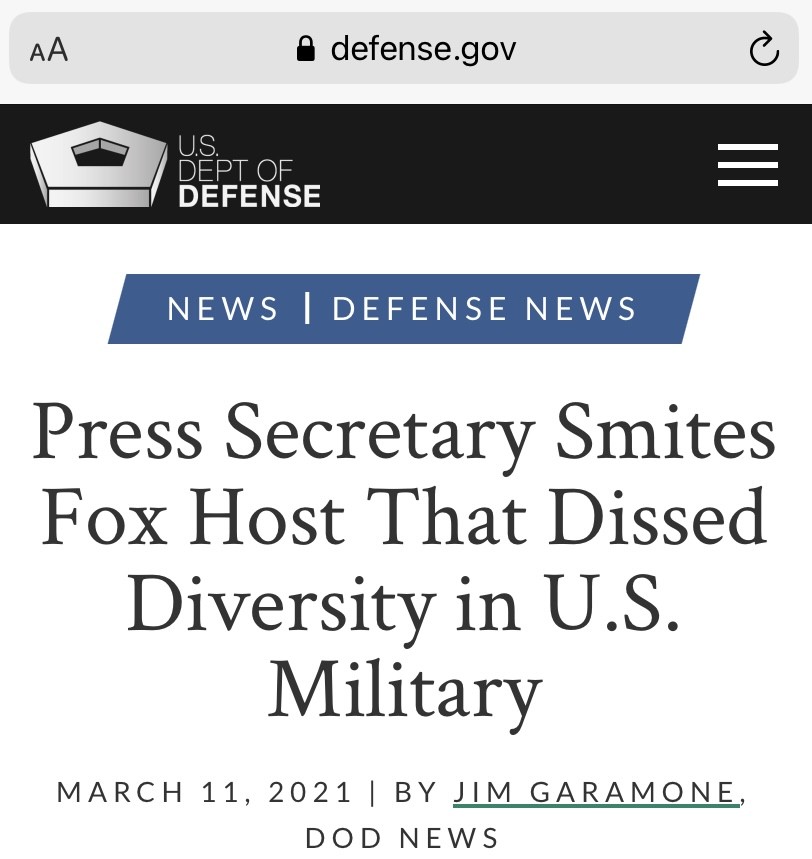 One person on Twitter wondered:
How old would someone who uses "smites" and "dissed" in the same sentence?

— Grace Lidia Suárez (@gracels) March 11, 2021
Good question.
But there's only one problem with this "report."  Tucker never ONCE attacked so-called "diversity."  And of course, the article never once provided the allegedly offensive comment.
Breitbart noted:
It quoted Press Secretary John Kirby saying that "the diversity of our military is one of our greatest strengths." It did not provide Tucker's allegedly offensive comment.

Carlson did not say anything at all about "diversity" in the military. Rather, he was responding to President Joe Biden's comments on Monday about women, describing efforts to ensure they could "feel safe and respected in our military."
Carlson noted:
Thursday, the Department of Defense launched a large and coordinated public relations offensive against this show. Pentagon brass issued hostile statements. People in uniform sent out videos on social media. The DOD even issued a news release attacking us: "Press Secretary Smites Fox Host". (Smites! Like we're a hostile foreign power.) We suspect this is one war they might actually win. They've got a manpower advantage.

We could play you a lot of the tape from this today — it took up most of their day — and we could marvel over it. Since when does the Pentagon declare war on a domestic news operation? We can't remember that ever happening. But we're going to pass on that, because this is bigger than a feud with some flack at the Pentagon. This is genuinely worrisome.

The Department of Defense has never been more aggressively or openly political. There are, at present, 2,500 American troops stationed in Afghanistan. They remain there to prevent the fall of Kabul to extremists. Simultaneously, there are 5,000 troops in our own Capitol, also as protection against "extremists," meaning people who voted for the losing candidate in the last election. Judging by those numbers, the Pentagon is twice as focused on controlling our own citizens as it is on controlling the Taliban.

Meanwhile, as Lloyd Austin hyperventilates about White supremacy, there are real threats out there, and the biggest ones continue to be ignored. Those threats aren't in Syria or suburban Virginia, and they're not domestic extremism, at least not right now.
Here's video:
Writing at Breitbart, Joel Pollack noted that "…Carlson's broader argument is a philosophical one: a military that is focused on gender inclusion may not be as focused on winning wars."
He further wrote:
America's rivals, notably China, are focused on building the size and strength of their militaries rather than on making sure women "feel safe and respected." The two are not always mutually exclusive — but perhaps they can be.

The issue is more salient when it comes to the issue of transgender soldiers, who may have to be taken off active duty for gender reassignment surgery. There, a desire to include transgender soldiers can have a direct impact on military readiness.

Regardless, the use of the Pentagon to attack a news network and a host crosses a new boundary. The Pentagon website attacked "a Fox cable host"; the senior enlisted leader in the U.S. Space Command attacked Carlson by name, claiming that his opinion was less valid because Carlson himself had not served in the military.
"For the record," Pollack added, "I have not served, but my wife, now pregnant with our third child, has been a Navy reservist for ten years."
It really doesn't matter whether one has served or not.  The Constitution includes the First Amendment, which ensures the right to criticize our government and provides for a free press, which includes Carlson.
Unlike Pollack or Carlson, however, I DID serve in the military for ten years, and took the oath to preserve, protect and defend the Constitution from all enemies, foreign and domestic, more than once.  So, yes, I suppose one could say that I have earned the right to criticize the military.
Having said that, I personally find these attacks against Carlson by the Defense Department to be stupid, childish, uninformed and juvenile.  Tucker is right to be concerned when the military begins attacking civilian news outlets.
Declaring war against Fox News is NOT the job of the military.  It IS the job of the military to, as Rush Limbaugh famously said, to kill people and break things.  Let's just hope the Biden regime can keep the military in check.  The last thing we should have to worry about is a military going after civilian pundits.
And God help us all if the Biden regime decides to use the military as a political weapon.
Related:
Turn your back on Big Tech oligarchs and join the New Resistance NOW!  Facebook, Google and other members of the Silicon Valley Axis of Evil are now doing everything they can to deliberately silence conservative content online, so please be sure to check out our MeWe page here, check us out at ProAmerica Only and follow us at Parler, Codias, Social Cross and Gab.  You can also follow us on Twitter at @co_firing_line.
If you appreciate independent conservative reports like this, please go here and support us on Patreon, get your conservative pro-Trump gear here and check out some great pro-Republican gear here.
While you're at it, be sure to check out our friends at Whatfinger News, the Internet's conservative front-page founded by ex-military!
And be sure to check out our friends at Trending Views: