Opinion
Politics
Trump's Presidency Hijacked: The "Familial Swamp" & Their Fingerprints – Six Degrees Of Separation!
WHILE there is little doubt that certain turnarounds, specifically, in the economic sector, are heading in a positive direction (albeit, much more must be done), there are concrete reasons to believe that Trump's much ballyhooed promise to "Drain The Swamp" is being thwarted from DEEP inside his inner sanctum.
EFFECTIVELY, his closest (read: familial) advisers are protecting clear-cut obstructionists vis-à-vis his MAGA agenda. Yes, time and again – while on the campaign trail – Trump's mantra re draining the anti-American and pro-globalist swamp was a "done deal" – or so it seemed! Similarly, his stance on "radical Islamic terror" (he was emphatic about a no-nonsense track) has been turned upside its head! Not only that, his back-tracking was predicted at this site, no less – here, here, here, here, here, here, and here.
APPARENTLY, the very clued-in jihadi expert, Paul Sperry, concurs with the findings within, even if not stating as much in so many words. Others alike. This is no small matter. 
TRUMP BLEACHED "ISLAMIC" FROM FIRST FORMAL WAR SPEECH RE ISLAMIC TERROR
HAS TRUMP BEEN McMASTERED?
WTF  is going on??
INDEED, indelicate language aside (for the stated record, certain situations are so grave that they warrant its expression, sensibilities be damned), the above charge is very incendiary, but no less true. The following is the tip of the "poop and scoop":
MUCH has been written via the so-called mainstream media – in reality, a loathsome crew of circling jackals and purveyors of fake news – about Trump's "alt-right", aka racist, inner circle. This is fact-based. While mainly directing their off the charts venom toward Bannon and Gorka (the few and far between true conservatives within his orbit), the fact remains that their ousters (regardless of how their departures were spun) could never have happened without Trump's closest advisers, Ivanka & Jared, whispering sweet nothings in his ears. No doubt they assisted in said purges, plus others.
NOW, while it is also the case that the aforementioned "dynamic duo" have been on the receiving end of the media's mud-slinging, some may have noticed that the furor against them has, for the most part, died down – juxtaposed against the unremitting putsch against "The Donald", spiked ala the "heels versus sneakers" full court press re the FLOTUS's choice of footwear! Have mercy.
IN the meanwhile, Texas is dealing with the mother of all floods, but the leftist-fascist media couldn't care less, as many of them have opined: it's karma! You know, as misanthropes are wont to do, they have no problem trampling over the human factor, instead, channeling their ire toward the many "bitter clingers" who live in Texas. Ipso facto, therefore, let them drown! Dear readers, if your hearts can withstand it, let their hatred sink in. But, once recovered, ask yourselves: what the hell is going on that Trump's admin is looking more and more like Obama-lite? Indeed, it has been reported that the White House is not pushing Congress for border wall funding, and the gov't won't be closed down, as threatened, if the reps fail to protect the citizens. Hmm.
IT is along this dangerous trajectory that these pages jump back and forth between American and Israeli (mostly, security-wise) concerns. Do note that this investigative journalist (and jihadi expert) lives in Israel, but is American-Israeli. The point being, in order to accomplish this and that it is imperative to not only have trusted contacts, but to tap into those who operate within the underbelly of each nation. Understood?
SO, when certain corroborated information is accumulated re a particular issue, the tack is to head to open source info, that which not only has their own reliable track record, but is closely in line with what has been (confidentially) dropped into this lap. Again, understood? Of course, at times, certain info and intel can't be gleaned online and ends up on these pages as an opening shot. 
THAT being established, it is time to clarify – and defend – the incendiary charge at hand: Trump's Presidency has been hijacked, and the familial swamp is six degrees separated!!
AS always, a backgrounder is necessary. Besides, it is mandatory due diligence. Even more so, in relation to very powerful cast of characters – be they inside or outside the government – caution is the watchword.
IN this regard, let's not pu- -yfoot around: Jared Kushner, aside from being the POTUS's son-in-law, is a mental light-weight, clearly, unqualified for the very powerful position he holds. Hence, aside from being the scion of an ultra rich daddy, his lack of intellectual heft is well-documented and known among his school peers too! But even if others aren't curious (or don't even know) as to why papa Charles had to endow a building at Harvard to secure Jared's entry, the fact is that father and son are life-long limousine liberals, Democrats, with Senior having donated mega funds to the Democratic Party! Is it any wonder that Jared's out-sized influence – in a supposedly conservative-leaning administration – is in direct opposition to the likes of conservative patriots, Bannon and Gorka, who champion MAGA on every front, unlike Demsters whose views are globally oriented? 
AS to Ivanka, well, she definitely cuts an elegant figure, is highly intelligent, polished, poised, and articulate. The list goes on. Surely, most would be proud to call her their own. Be that as it may, she married her ideological soul mate. But whereas this is a positive force on the marriage-front, it is an unmitigated disaster for non-relations who voted for Trump's MAGA promises!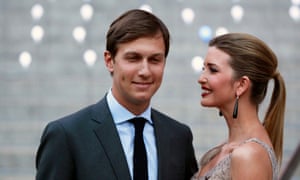 The daughter of President Trump and her husband, who are advisers in the current administration, were two attendees at Lally Weymouth's annual party at her home in Southhampton.
Billionaire George Soros and Senate Minority Leader Chuck Schumer were two of the liberal in attendance at the party.
Weymouth is a current senior associate editor at the Washington Post, one of the many outlets that the the president has labeled 'fake news'. Weymouth's family used to own the Washington, DC-based newspaper before it was taken over by Amazon's Jeff Bezos.
MIND you, the aforementioned party should not be misconstrued as a typical networking and schmoozing soiree. Rather, the "dynamic duo" are VERY in tune with this uber-leftist crowd. Yes, they are. Most importantly, none of this would matter, if they were not ensconced in the People's House as the two most powerful players, bar none!
SO, it is the above backgrounder which brings us straight into the heart of the familial charge sheet.
A highly credible report – as it happens, it dovetails with the sources within – claims that Trump is, effectively, under "house arrest!" Huh and duh? Moreover, the "dynamic duo" are inextricably involved and calling the shots.
Which also explains why respected conservatives – associates of Trump who previously had his ears – can no longer even gain access for an appointmentto discuss matters of grave national security import! Read:John Bolton. Others alike. Indeed, his scheduling gatekeepers (HUSSEIN loyalists) are allowed to keep them out, and this wouldn't be possible without familial approval!
Alas, even though Gorka asserts that Trump has his heart in the right place – which is likely the case – it doesn't amount to a hill of beans, that is, now that HUSSEIN's holdovers are in charge – all "credit" given to the "dynamic duo!"
NOW, atop all of the above, what are the chances that "draining the swamp" in DC took an additional nose-dive, knowing that Kushner's family empire is in dire financial straits, irrespective of all the denials from Jared and company spokespeople? 
TO wit, with billions on the line for the Kushner family (and this is aside from the couple's bleeding liberal-leftist outlook), shouldn't the following factoids be more than worrisome – vis-à-vis immigration issues in toto, back-door or otherwise? By extrapolation, if 1 + 1 still = 2, shouldn't his family's dependence on global kow-towing be considered a red flag, as well as an absolute conflict in interest re a host of Trump's MAGA talking points? If not, why not?
In search of investment, executives and members of the Kushner family have reportedly tried to tap investment sources in South Korea, France, Israel, China, Qatar, and Saudi Arabia. It has also taken a toll in other areas, as the company reportedly sold thousands of apartments to finance the purchase of the building, extracted cash from at least one other property, and has borrowed "extensively" for other deals.
"The strain has become increasingly evident across their holdings. One person familiar with the company's finances describes the tower, with its low ceilings and outdated floor plan, as the Jenga puzzle piece that could set the empire teetering," Bloomberg reports
Kushner Cos., however, claims that such reports are overblown, and told Bloomberg it is encouraged by a number of interested investors.
"Reports that portray it as a distressed situation are just not accurate for the building or for the company," Kushner Cos. President Laurent Morali told the outlet.
The reported hardships come on top of a number of controversies involving Kusher. New York investigators are reportedly looking into the company's use of an investment-for-immigration scheme in relation to a development in New Jersey.
Nicole Kushner Meyer, Kushner's sister, made a pitch in May to Chinese investors for the project and reportedly teased green cards.
An ad for the event said: "Invest $500,000 and immigrate to the United States." While a speaker reportedly seemed to be guiding investors to avoid that hazard: "Invest early, and you will invest under the old rules."
The Kushner family later apologized for mentioning the connection to the Trump administration in the pitch. Kushner stepped down from his role at the company in January and has sold his stake in it.
IN tandem, know that Jared, akin to "The Donald", is a consummate family man. More specifically, it has been reported that his papa is his hero!! And while said traits are HIGHLY admired at this end, criminal activity crosses all familial (protective) boundaries. Yes, if you can't do the time, don't do the crime, springs to mind.
RELATIVE to the above, Jared sought revenge after papa went to prison, likely, in the hope of protecting his family's "honor." Never mind that that ship has sailed. On the other hand, Chris Christie (whose coziness with Islamists is well-documented) is a blight. That being said, as a former U.S. Attorney, he was responsible for sending Jared's felonious father to prison! Hence, once in a position of power, he sought payback – and payback he did.
The reason for the purging? "As a federal prosecutor, Mr. Christie sent Mr. Kushner's father to jail," the Times noted. Many other sources have confirmed the origin of Kushner's animus was Christie's prosecution of the elder Kushner. But most public mentions of the reason have been as brief as the Times'. It turns out the story behind the story is much longer, and more complicated. And ugly.
The short version is: In 2004, Jared Kushner's father Charles, a real estate magnate in New Jersey and New York, pleaded guilty to a tax fraud scheme in which he claimed hundreds of thousands of dollars in phony deductions for office expenses at the partnerships he created to manage the apartment buildings he owned. Kushner, a major donor to the Democratic Party, also pleaded guilty to fraudulently making hundreds of thousands of dollars in campaign contributions in the names of employees and associates who didn't know their names were being used. Finally, Kushner pleaded guilty to retaliating against a cooperating witness in the case — his sister. He did so by setting a trap in which he hired a prostitute to lure his sister's husband into a sexual encounter in a New Jersey hotel, where the action was secretly photographed and videotaped. Kushner sent the pictures and tape to his sister as revenge, apparently motivated by Kushner's belief that she and her husband were helping U.S. Attorney Christie and his prosecutors.
MOST significantly, in light of all of the above, isn't it clear that the "dynamic duo's" ideological (coupled with Kushner's family woes) agenda requires them to purge authentic conservatives, as opposed to RINO's?
CONCOMITANTLY, Bannon and Gorka (and a few others) were swept in (as temporary fixtures) to grace the inner circle, in recognition for their massive assistance, as well as to satisfy Trump's swelling conservative base.
ALMOST as if in a sleight of hand – and after a certain amount of time lapsed – it became imperative for the "dynamic duo" to cut the conservative chord, to be able to carry water for the holdovers from HUSSEIN's administration. This is where it is at. The fact that the gatekeepers are at odds with the millions who voted for real change – MAGA-like – is nothing but background noise to their liberal/globalist agenda!
PATRIOTS, will leave it to you (and millions of discerning readers, through re-blog after re-blog) to decide if Trump is "held captive" by familial advisers – or not.
{MEMO: FB's censors are limiting the sharing of Adina Kutnicki: A Zionist & Conservative Blog! Indeed, the following message from FB's censors is crystal clear:
MESSAGE FAILED