Author: Adina Kutnicki
NO doubt, President Trump, on an intellectual and gut level, internalizes that Islam, underpinned by Sharia Law, is irreconcilably dangerous and detrimental to America and the west in toto.
THIS is so despite his recent tap dance in Saudi Arabia which smacked of hogwash and more. The evidence to this analysis is irrefutable and non-negotiable. Regardless, a smattering of proofs can be accessed below.
Paradoxically, even though Trump talks tough on Islamic jihad, he appointed McMaster as his top National Security adviser, who, in turn, appointed Powell, both of whom are absolutely on another page – Islamic-wise!
Yet, as to the nitty-gritty, one analysis stands out as a primary case study re Islam's incontrovertible peril: Sharia Law must be eliminated from America's shores for it is a cancerous scourge. Period.
Even so, if an unbiased scholarly rendition is requisite for some, look no further: Islam and Blood more than qualifies, never mind that it passes the ultimate smell test.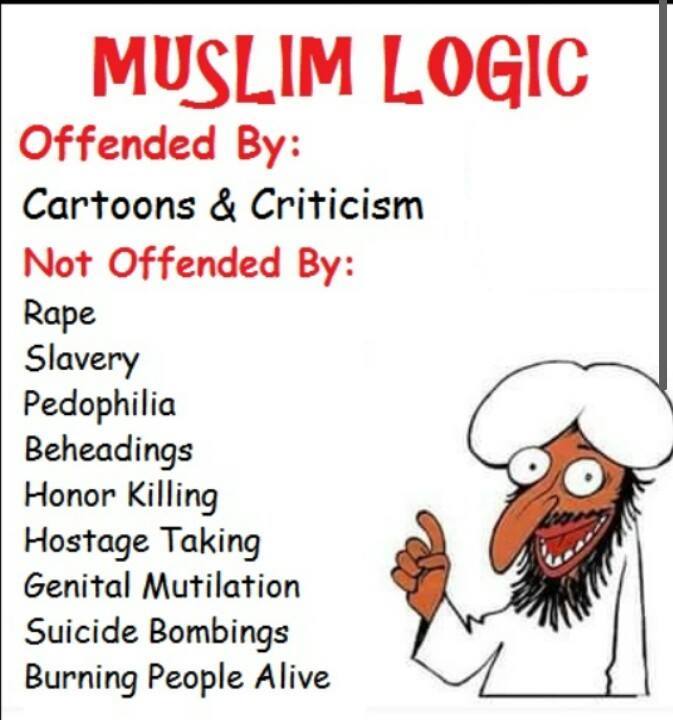 IN this regard – and far be it to mix apples and oranges – it must be stated: Trump is hardly known for being a pushover, so much so that he honored a major campaign promise by pulling out of the "Paris Agreement"; a mega coup for American taxpayers and businesses in general. Suffice to suggest, he knows what's what and how to buck the braying and hysterical herd. His "go it alone" cowboy stance is hardly at issue, that which happens to be – from this vantage point – his most admirable quality.
TO wit, how does the above square with his shuffling, waffling, and overall inertia when it comes to protecting the nation from the biggest threat of all, domestic Mohammedans? Not only that, why did he appoint Jared Kushner to broker "peace" with Abbas's PA terror junta, which has proven itself to be – over and over again – interested in nothing less than the destruction of Israel? After all, how many death dances is it gonna take – regardless of the party which initiates the "peace train" tango? Effectively, when will Washington take NO for an answer? Most significantly, will Trump be the one to man-up  – or not – by cutting off the PA terror apparatus's oxygen and hope, that which fuels their salami-like intifada tactics against Israel, decade after decade?
Palestinian Authority (PA) President Mahmoud Abbas has allegedly confirmed reports that US President Donald Trump shouted at him during the US' leader's visit to the West Bank last month.
"You tricked me in [Washington] DC! You talked there about your commitment to peace, but the Israelis showed me your involvement in incitement [against Israel],"  Mr Trump is alleged to have shouted at the Palestinian leader, an outburst that was followed by several minutes of shocked silence, Israel's Channel 2 claimed last week, citing an unnamed American official.
The rest of the meeting was reportedly tense and took a while to get back on track.
STILL yet, is the "art of the deal" so alluring that "The Donald" can't resist the lure of brokering, even if it means that it will place Israel in precipitous danger, and, as a knock-on effect, endanger America?
BESIDES, what makes Trump think that Jared – aside from his "qualified" Jewish roots – who is wet behind the ears in this hotter than hot arena, knows anything of substance about the perilous jungle of the Middle East, let alone the ins and outs of the political, cultural, and religious underpinnings of Islam in general and Islamic jihad in specific? Even more so, Kushner grew up in the loony, liberal confines of NYC and NJ (incidentally, the original stomping grounds of yours truly), and within a family that is politically and ideologically rooted with Demsters. That's the G-d's honest truth. Consequentially, his views are shaped by "peace" fantasies endemic within multicultural kumbaya milieus. A recipe for disaster.
WHICH brings the discussion full circle (as you scroll down) to Trump's DOJ vis-à-vis mosques in America – the cancer within! Mind you, this "delicate" arena is a fatal flaw within the west, as most leaders and citizens alike lack the basic understanding – never mind the concrete knowledge base – as to why mosques are not even remotely akin to houses of worship, at least the way westerners view religious sanctuaries.  
ALONG this explosive trajectory, readers are advised to recall a hotter than hot warning bell from October 2015: DANGER ZONE: N.J. planning board approves mega mosque!
TIME and again, this site has asserted: The Mohammedan takeover of the west runs through their mosques. Their barracks. This is precisely why some very large mosques are built in areas where the Muslim population is barely negligible, yet, Islamists pay huge sums for vast expanses of land. Pray tell, why?
INCONTROVERTIBLY, this is part of a well-oiled plan from the Muslim Brotherhood Mafia's top leadership, in anticipation of an Islamic takeover! Believe it. This is NOT a so-called conspiracy theory. So how many even know about "The Plan" via its Five Phases? If not, please apprise yourselves ASAP. It is an intrinsic 'lesson plan' for Americans, westerners alike….continue reading….
NOW, onto Trump's DOJ….
It looks as if the Justice Department swamp not only has not been drained, but is full of more voracious crocodiles than ever before. This case started during the Obama administration, but it is the Trump administration's Justice Department that is handing down this ruling. President Trump needs to repudiate it, or else he owns it.
In battles over mosques all over the country, the elephant in the room is not allowed to be discussed: the connections of the mosque leaders to the Muslim Brotherhood and other jihad groups. People don't oppose these mosques because of "racism" or "bigotry," but because they're concerned about jihad terror. With most of the mosques in the U.S. getting funding from Saudi Arabia and surveys having shown that most mosques in the U.S. preach hatred of Jews and Christians and the necessity ultimately to replace the U.S. Constitution with Islamic law, these are legitimate concerns, but discussion of them is foreclosed as "Islamophobic."
"Diversity and inclusion training," meanwhile, means having to listen to a lot of lies about how Islam is a religion of peace and Muslims are victimized by "Islamophobia." The object of the "training" is to intimidate the "trainees" into fearing to oppose Islamic supremacism, jihad terror, Sharia, and the mosques in which such things are preached.
"'Municipalities around the country should pay close attention to what happened in Bernards Township,' Adeel A. Mangi, lead counsel for the mosque, told My Central Jersey. 'The American Muslim community has the legal resources, the allies and the determination to stand up for its constitutional rights in court and will do so.'"
Threat noted. It should also be noted that there is no constitutional right to break American laws under the guise of freedom of religion. This principle has been obscured, and needs to be reasserted, or we are in for a world of hurt.
The Trump administration Justice Department should be allowing for such discussion, not strong-arming and extorting communities to support what will likely be a Muslim Brotherhood installation in their midst. Is Sessions even aware of this ruling? Is Trump? If they're not, it's criminal negligence, and if they are, it's something even worse.
"A New Jersey town denied Muslims a mosque. Now it must pay them $3.25 million," by Katie Mettler, Washington Post, May 31, 2017:
The worshipers waited four years and 39 public hearings for the official denial: Muslims in their small New Jersey town would not be allowed to build a mosque.

The 2015 decision made by the planning board in Bernards Township, N.J., a majority-white suburb of 26,000 people, came after significant public opposition to the mosque that thrust the community into the national spotlight and spurred religious discrimination lawsuits from the Islamic Society of Basking Ridge and the Department of Justice.

On Tuesday, the township learned the cost of its six-year-old decision: $3.25 million.

As part of a settlement of the suits, the township must allow construction of the mosque to begin at its original proposed location, according to the Justice Department. Bernards Township will pay the Islamic Society $1.5 million in damages and $1.75 million in attorney fees and require town officials to submit to diversity and inclusion training.

"Municipalities around the country should pay close attention to what happened in Bernards Township," Adeel A. Mangi, lead counsel for the mosque, told My Central Jersey. "The American Muslim community has the legal resources, the allies and the determination to stand up for its constitutional rights in court and will do so."…
IMAGINE that. Adding insult to grave injury, Trump's DOJ ordered Bernard Township to get "diversity training", atop shelling out mega bucks extorted by Muslim Brotherhood Mafia front groups via lawfare !!
RESULTANT, Trump's DOJ more than bears watching, for it is a swamp which is no different than HUSSEIN's, relative to its kow-towing to Muslims, and not only when their barracks within enter the legal fray. Another evidentiary commentary (June 2015) is excerpted below.
THIS investigative journalist has REPEATEDLY warned about the explosive underpinnings of mosques in America. Not only that, said "audacity" has enraged countless Islamic jihadists and their apologists, thus, the bugaboo of "Islamophobe" has been brandished too many times to count. Threats alike. Boo hoo.
REGARDLESS, without a proper understanding of what mosques in America (the west alike) are designed for, rest assured, it is impossible for non-Muslims to internalize the grave amount of danger they are in.
BE that as it may, sans any poppycock, they are Islam's "barracks" within, and some Islamists have admitted as much. On the other hand, Americans are fed to believe that they are merely houses of worship akin to churches and synagogues. Yada, yada…meanwhile, they hide behind freedom of religion to plot their slaughter under the banner of (pagan) Allah.
The Muslim Turkish Prime Minister, Recep Tayyip Erdogan, bragged: "The mosques are our barracks, the domes our helmets, the minarets our bayonets and the faithful our soldiers." Erdogan has also told Turkish immigrants in Germany that "assimilation is a crime against humanity."….continue reading….
TRENCHANTLY, it wasn't unexpected (from this media perch, despite supporting Trump) that "The Donald" caved to Islamist AND leftist pressure ala foreign policy establishment (read: fixtures at the State Dept., who are reflexively hostile to Israel) diktats, re fulfilling his much-hyped campaign promise to finally move the U.S. Embassy to Jerusalem, as per Congressional mandate via the Jerusalem Embassy Act! 
OMINOUSLY, as always, the "peace-pipe" dream is the handily trotted out mantra and excuse for "delaying" the mandated move. Regardless, it is way past time to  address the real elephant in the public sphere: relative to Muslims and their continuous demands (whether domestic-wise or in the Middle East), on a practical level, how does Trump differ from HUSSEIN?
NOT even an iota.
PRECISELY! 
{MEMO: FB's censors are limiting the sharing of Adina Kutnicki: A Zionist & Conservative Blog! Indeed, the following message from FB's censors is crystal clear: