Politics
Paul Ryan Speaker…Abandon All Hope for America
Yes, I know nothing is official yet, but the only person who seems to be fighting against a Paul Ryan speakership is fellow candidate Daniel Webster.  They say you can tell a lot about a person by who their enemies are.  Well, you can also tell a lot about a person by who their friends are.  So far, Nancy Pelosi, Harry Reid, Luis Gutierrez and assumptively Barack Obama are all in his corner.  For me, that disqualifies him from being the leader of the Republican Party.  If he wins, so does Obama and the liberals.
Paul Ryan has a well-deserved conservative rating of only 58%.  That too, should set off alarms.  He has worked with Obama in defeating lower spending and working for higher debt limits.  He has worked closely with Luis Gutierrez in trying to grant amnesty and voter registration cards to 12 million illegal invaders also known as aliens.  His new ideas on fighting poverty could have easily been written by Nancy Pelosi or Barack Obama.
Make no mistake about it, the reason that Donald Trump has become so popular is the fact that he has taken a hard stand against illegal aliens.  By contrast, Paul Ryan is seen as their best friend.  Take the following videos for example:
This is the American Dream. This is the American idea. Look, put yourself in another person's shoes, which if you're in elected office, that's what you kind of have to do that almost every single day. The job we have–and what we do is we take different people's perspectives. The gentleman from India who's waiting for his green card. The DREAMer who is waiting. We take all these different perspectives. We process it through our values and our morals and our principles. And then we come up with the answer to try and solve this problem. That's basically what we do in our jobs.
Nobody was more supportive of Marco Rubio's amnesty plan (A plan that by the way did not include closing the border) and one of it's biggest boosters.  If he has his way American workers will have 12 million more competing for American jobs and wages will become even more depressed than the have under Obama.  (Average family income has dropped over 5,000 a year under the Obama caliphate)
Ryan met with Republicans on Tuesday night and told them that he would reluctantly be their new leader providing everyone backs him unconditionally.  That includes the Freedom Caucus.  With the lone exception of Daniel Webster, you won't find any Freedom Caucus members with a problem being led by Paul Ryan.  I can feel the knife silently entering my back now.
The most alarming condition Paul Ryan has laid out is that the Republicans must do away with the threat of vacating the Speaker's position.  In other words, once he becomes Speaker, members would have no way to force him from that position, no matter how unpopular his positions are and since he will have the complete support of Democrats, he will actually only need a hand full of RINOs to pass liberal legislation.
Here is a statement released by Ryan's spokesperson: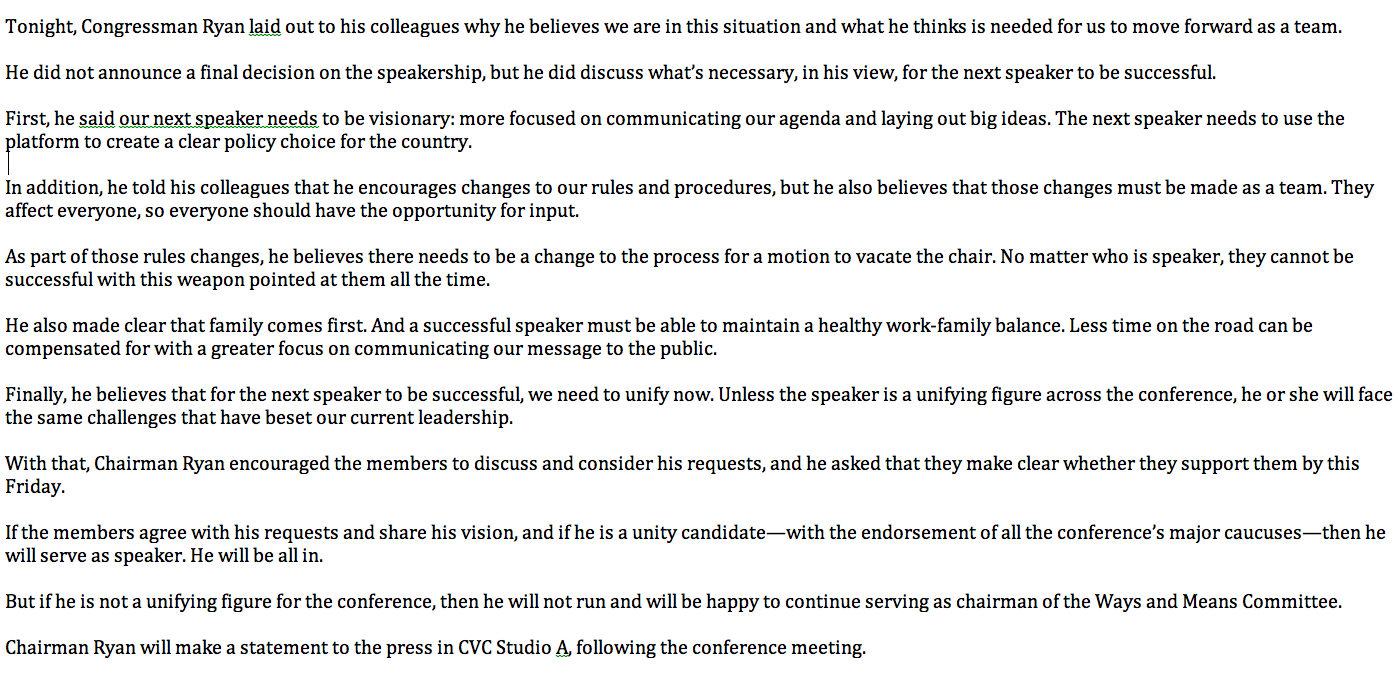 Call your representatives.  Do not say that you will not vote for their re-election.  Tell them that you will actively fight against it.  You will pass out flyers, knock on doors, ask for donations and basically do all that's within your power to assure their defeat.  If enough people do this, they will listen.
Related:
If you haven't checked out and liked our Facebook page, please go here and do so.