The prevailing thought for gun buybacks is that they "remove guns from the street." It's a total lie. Criminals don't turn in their guns (unless they want to buy a better one), and others usually only turn in the ones that are broken, unusable, or in the case of a recent NY gun buyback, baggies of plastic parts run off on a 3-D printer. Yet cities across the board tout the programs as "successful."
NY Gun Buyback Boondoggle
Four guys scammed the Utica Police Department for a total of $45,000 in gift cards when they turned in baggies of plastic gun parts they ran off on 3-D printers. One man referred to as 'Kem' got $21,000 in cards in Utica's August gun buyback.
"Nobody thought this through. If you look at the flyer, it is just the gravest thing that Letitia James could have done," Kem told WKTV in an interview. "She literally put a bounty on 3D-printed guns. She said, 'I will give you extra money if it doesn't have a serial number on it' — they didn't touch on any details, there was no fine print, and that's why I was able to walk out with $21,000."

"I'm sure handing over $21,000 in gift cards to some punk kid after getting a bunch of plastic junk was a rousing success," said Kem laughing. "Gun buybacks are a fantastic way of showing, number one, that your policies don't work, and, number 2, you're creating perverse demand. You're causing people to show up to these events, and, they don't actually reduce crime whatsoever."

Kem to WKTV
Is America headed for a recession?
Yeah, drove six hours to scam the shit out of them. Three other guys linked up and we ran the Utica PD for a total of like $45k between all of us.

— AntennaBun ™️ (@kem_regik) September 14, 2022
He's right about one thing: gun buybacks do not reduce crime in any way shape or form. AG Letitia James said that they "adjusted" their policy on the gun buybacks so that no one can ever scam them again. Which remains to be seen.
Another NY police department at Camillus didn't learn the lesson and also began a gun buyback program, although this time they excluded 3-D printed weapons. The Camillus program snagged only 172 guns in their effort. No word on whether anyone made extra money from it.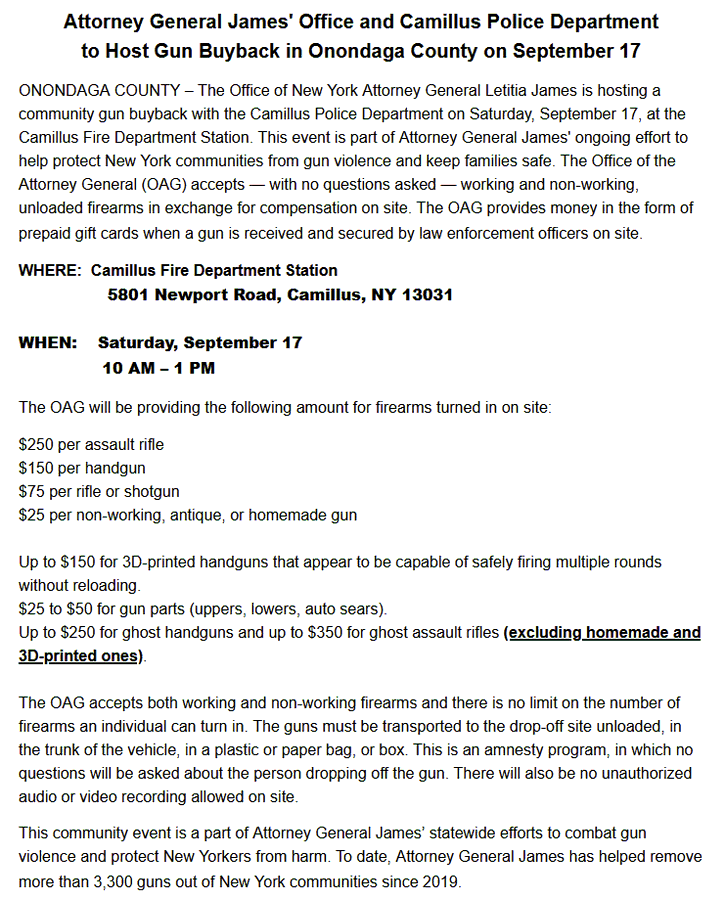 Think about this: the NY gun buyback program has only removed "3,500" guns out of literally millions since 2019. How is that a "success?" New York has a criminal problem, not a legal gun owner problem. In order to keep New Yorkers safe, they must target the criminals instead of the tools criminals use.
***
Related:
Turn your back on Big Tech oligarchs and join the New Resistance NOW!  Facebook, Google, and other members of the Silicon Valley Axis of Evil are now doing everything they can to deliberately silence conservative content online, so please be sure to check out our MeWe page here, check us out at ProAmerica Only and follow us at Parler, Social Cross and Gab.  You can also follow us on Twitter at @co_firing_line, and at the new social media site set up by members of Team Trump, GETTR.
While you're at it, be sure to check out our friends at Whatfinger News, the Internet's conservative front-page founded by ex-military!
And be sure to check out our friends at Trending Views: