Terrorism
Liberal Terrorism? Unknown White Powder Sent To Fox News Prompts Hazmat Response
On Friday, Fox News received an envelope containing an unknown white powder, Mediaite reported.  According to the report, the floor was immediately evacuated as authorities were called to respond.
"An envelope containing a white powdery substance was opened at FOX News Media today. We immediately notified the NYPD's Hazmat unit and the FDNY, both of which responded accordingly and our offices were given an all clear after it was determined that the substance was non-hazardous. We are very grateful for their swift attention to this incident," Fox News said in a statement.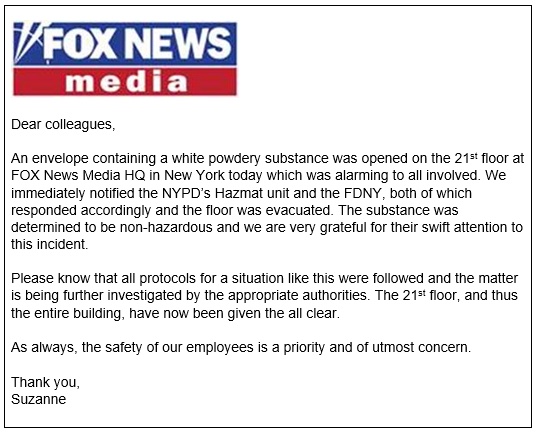 Dear colleagues,

take our poll - story continues below

Is Biden's Vaccine Mandate Unconstitutional?

Completing this poll grants you access to Conservative Firing Line updates free of charge. You may opt out at anytime. You also agree to this site's Privacy Policy and Terms of Use.

An envelope containing a white powdery substance was opened on the 21st floor at FOX News Media HQ in New York today which was alarming to all involved. We immediately notified the NYPD's Hazmat unit and the FDNY, both of which responded accordingly and the floor was evacuated. The substance was determined to be non-hazardous and we are very grateful for their swift attention to this incident.

Please know that all protocols for a situation like this were followed and the matter is being further investigated by the appropriate authorities. The 21st floor, and thus the entire building, have now been given the all clear.

As always, the safety of our employees is a priority and of utmost concern.

Thank you,
Suzanne
As the Gateway Pundit reported, Antifa terrorists gathered in front of Fox News to burn flags and pictures of Tucker Carlson, while calling the company the KKK.
A protester lights a smoke signal outside Fox News HQ in Midtown pic.twitter.com/ebveFYBaOd

— Elad Eliahu (@elaadeliahu) August 12, 2021
protesters light an American flag and a picture of @TuckerCarlson outside Fox News HQ pic.twitter.com/P6BxRL96QL

— Elad Eliahu (@elaadeliahu) August 12, 2021
"You're full of lies, you're all racists and Nazis you're Zionists, you're KKK, Proud Boys," one protester claimed.
Fox News is also repeatedly attacked by talking heads at CNN and MSNBC, the official network of insane liberal rage, hate and stupid, lying liberal propaganda.
It's not known if the white powder is connected to Wednesday's incident.
Related:
Turn your back on Big Tech oligarchs and join the New Resistance NOW!  Facebook, Google, and other members of the Silicon Valley Axis of Evil are now doing everything they can to deliberately silence conservative content online, so please be sure to check out our MeWe page here, check us out at ProAmerica Only and follow us at Parler, Social Cross and Gab.  You can also follow us on Twitter at @co_firing_line, and at the new social media site set up by members of Team Trump, GETTR.
While you're at it, be sure to check out our friends at Whatfinger News, the Internet's conservative front-page founded by ex-military!
And be sure to check out our friends at Trending Views: