Politics
In 180 Reversal, CDC Head Says Vaccines Can't Prevent Spread of Covid (Video)
Our health "authorities" endless flip-flopping is getting more comical by the day.
March 30th:
CDC Director Dr. Rochelle Walensky: "Our data from the CDC today suggest that vaccinated people do not carry the virus." pic.twitter.com/9W1SHecSEm

— The Recount (@therecount) March 30, 2021
August 5:
"Our vaccines are working exceptionally well," CDC Director Dr. Rochelle Walensky tells @wolfblitzer. "They continue to work well for Delta, with regard to severe illness and death – they prevent it. But what they can't do anymore is prevent transmission." pic.twitter.com/s83YyBQqeh

— The Situation Room (@CNNSitRoom) August 5, 2021
From CNN, "Fully vaccinated people who get a Covid-19 breakthrough infection can transmit the virus, CDC chief says":
FULLY VACCINATED PEOPLE WHO GET A COVID-19 BREAKTHROUGH INFECTION CAN TRANSMIT THE VIRUS, US CENTERS FOR DISEASE CONTROL AND PREVENTION DIRECTOR DR. ROCHELLE WALENSKY SAID THURSDAY.

"OUR VACCINES ARE WORKING EXCEPTIONALLY WELL," WALENSKY TOLD CNN'S WOLF BLITZER. "THEY CONTINUE TO WORK WELL FOR DELTA, WITH REGARD TO SEVERE ILLNESS AND DEATH — THEY PREVENT IT. BUT WHAT THEY CAN'T DO ANYMORE IS PREVENT TRANSMISSION."

THAT'S WHY THE CDC CHANGED ITS GUIDANCE LAST WEEK AND IS NOW RECOMMENDING EVEN VACCINATED PEOPLE WEAR MASKS INDOORS AGAIN, WALENSKY SAID.
The CDC said the exact opposite in April (and social media sites would silence you for claiming otherwise):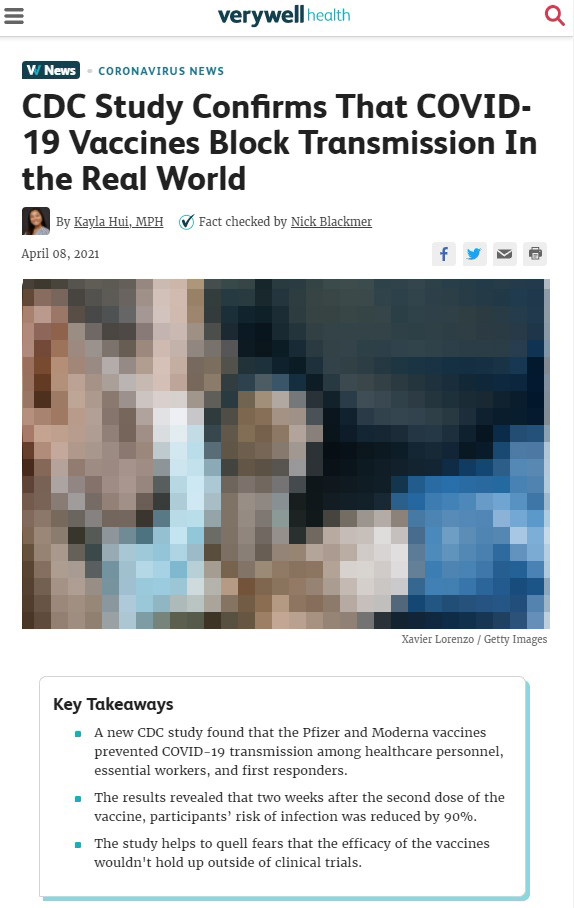 They've also done a 180-degree reversal on telling the vaxxed they don't need to wear masks.
NIH director Francis Collins: "It may sound weird" but parents should wear masks at home in front of their unvaccinated kids pic.twitter.com/ZKt8czU5aP

— Tom Elliott (@tomselliott) August 3, 2021
In yet another 180, they've gone in just the past two weeks from claiming vaccines are preventing variants to claiming vaccines may be causing variants.
I got a 12 hour suspension in June for saying this pic.twitter.com/prODIooy95

— Dr. Benjamin Braddock (@GraduatedBen) July 30, 2021
As a reminder, this is the type of propaganda that Israel was putting out about the effectiveness of Pfizer's mRNA injection back in February:
Now, we're being told the vaxxed carry just as much if not more viral load than the unvaxxed.
The CDC and Fauci have now confirmed that those double-vaxxed can carry as much viral load as those unvaxxed. Fauci also confirms that the vaccinated can acquire and transmit the virus as easy as the unvaccinated.

Still think vaccine passports are about stopping virus spread? pic.twitter.com/pJwuTnjNiw

— CitizenJournos (@citizenjournos_) August 1, 2021
"We are seeing that the ability of individuals who are infected through break-through infections, namely vaccinated people…it is clear that they are capable of transmitting the infection to uninfected individuals." pic.twitter.com/XuyqdH0Ne8

— CitizenJournos (@citizenjournos_) August 1, 2021
Meanwhile, in Israel they're now telling us that the vaccines are not working as "exceptionally well" as Walensky claims.
"95% of the severe patients are vaccinated".
"85-90% of the hospitalizations are in Fully vaccinated people."
"We are opening more and more COVID wards."
"The effectiveness of the vaccine is waning/fading out"

(Dr. Kobi Haviv, earlier today on Chanel 13 @newsisrael13 ) pic.twitter.com/SpLZewiRpQ

— Ran Israeli (@RanIsraeli) August 5, 2021
Anyone want to guess how long it will be before the CDC tells us the vaccines can't prevent severe illness and death — as both Pfizer's clinical trial data and the CDC's own data is increasingly indicating?
If patterns hold, it will probably only be a few months.
Already, the FDA is working on approving booster shots for the immunocompromised and those who first got the shots in December:
Within the next few weeks, the FDA is expected to recommend a plan for immunocompromised Americans to get a COVID-19 booster shot, a senior government official familiar with the agency's planning told @ABC News. https://t.co/CQEZ2uRVjG

— ABC News (@ABC) August 6, 2021
Pfizer and Moderna are both pushing for booster shots in the fall, significantly hiking the price of their shots in the EU and "boosting" their 2021 revenue expectations.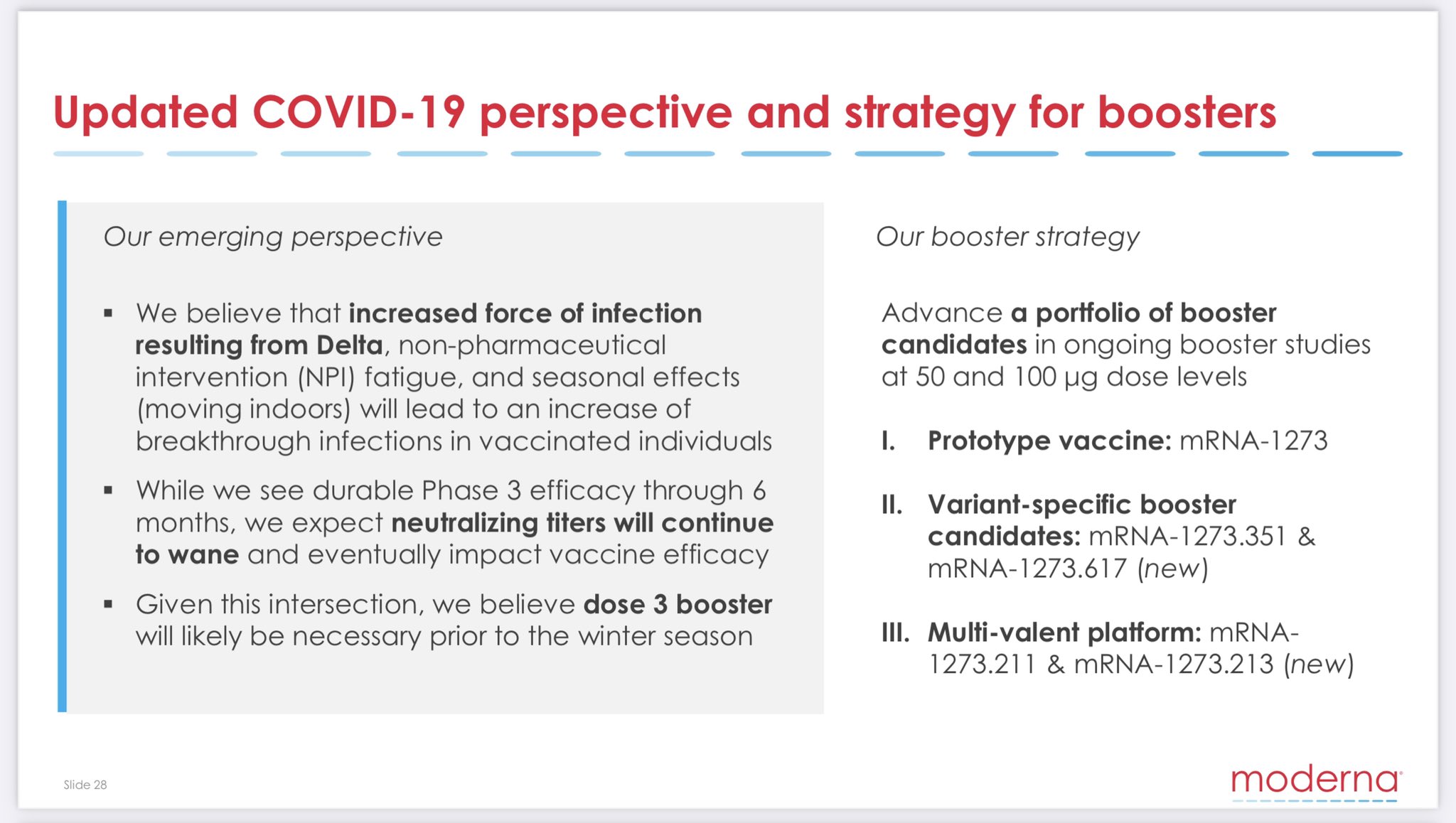 Really looking forward to the triple vaxxers turning on the double vaxxers

— Dr Bitcoin MD (@DrBitcoinMD) August 4, 2021
How much more of this lunacy can the masses take?
Cross-posted with DC Clothesline
Related:
Turn your back on Big Tech oligarchs and join the New Resistance NOW!  Facebook, Google, and other members of the Silicon Valley Axis of Evil are now doing everything they can to deliberately silence conservative content online, so please be sure to check out our MeWe page here, check us out at ProAmerica Only and follow us at Parler, Social Cross and Gab.  You can also follow us on Twitter at @co_firing_line, and at the new social media site set up by members of Team Trump, GETTR.
While you're at it, be sure to check out our friends at Whatfinger News, the Internet's conservative front-page founded by ex-military!
And be sure to check out our friends at Trending Views: