A left-wing HuffPost contributor employed at Progress North Carolina Action as its "Comms Director" is orchestrating a campaign to publicly identify people who attended the "United The Right" rally in Charlottesville, Virginia last week. His goal is workplace retaliation: to identify and "dox" so-called racists in order to hurt them financially by getting them fired from their jobs, reports Buzzfeed's Kevin Collier.
The Twitter account @YesYoureRacist crowdsourced names of those attending the Charlottesville rally, asking his 364k followers to help identify photos of rally participants several of which were retweeted tens of thousands of times.
"Doxing" is a term for maliciously publishing personally identifying details like addresses, phone numbers and employer information for otherwise anonymous or semi-anonymous persons.
If you recognize any of the Nazis marching in #Charlottesville, send me their names/profiles and I'll make them famous #GoodNightAltRight pic.twitter.com/2tA9xliFVU

— Yes, You're Racist (@YesYoureRacist) August 12, 2017
Arkansas Professor Kyle Quinn experienced first hand the dangers of amateurs recklessly using social media to spread misinformation. Quinn was 1,100 miles away enjoying dinner with his wife during the Charlottesville confrontation but Quinn resembled the unidentified man pictured in the tweet below:
https://twitter.com/YesYoureRacist/status/896478927220355076?ref_src=twsrc%5Etfw&ref_url=https%3A%2F%2Fwww.buzzfeed.com%2Fkevincollier%2Fanti-racists-are-trying-to-dox-charlottesville-racists-and
Once doxed and erroneously branded as a racist on Twitter, the damage was done. The New York Times explained:
Mr. Quinn, who runs a laboratory dedicated to wound-healing research, was quickly flooded with vulgar messages on Twitter and Instagram, he said in an interview on Monday. Countless people he had never met demanded he lose his job, accused him of racism and posted his home address on social networks.
Although the owner of the account @YesYoureRacist "declined to provide his name" to either Buzzfeed or the New York Times,  turnabout is fair play.
According to Breitbart's Amanda House, users of the website "4chan" doxed the owner of the @YesYoureRacist himself, identifying him as Logan Smith, an employee at Progress North Carolina Action and a HuffPost contributor.
Progress NC Action, Smith's employer, is a state affiliate of Progress Now, a 501(c)(4) advocacy group dedicated to "promot[ing] progressive ideas and causes."

Breitbart News asked HuffPost, which has run several pieces condemning the practice of doxing when left-wing "social justice warriors" are the victims, whether it would continue publishing Smith's work. At the time of publication, HuffPost had not responded to our inquiry about Smith's future writing for the website.
Undeterred, Logan Smith celebrated and claimed credit for the firing of a Berkeley California hot dog stand employee.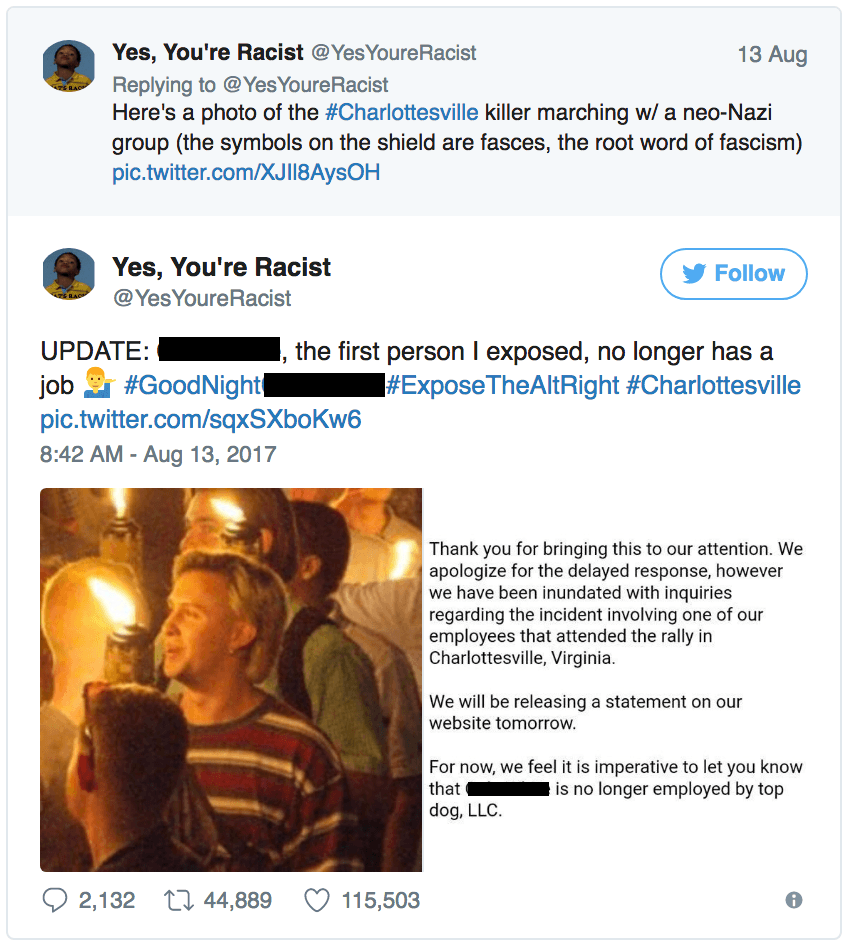 Mr. Smith is a contributor at HuffPost:
On his Twitter used account linked to his Huffpost profile he goes by the moniker Roonil Wazlib, describing himself there as "Comms Director @ProgressNow_NC. Good but not nice. Tweets do not represent the views of my employer, except when they do."
This is truly the dumbest time to be alive pic.twitter.com/DIG9hMHAE2

— Truman Chipotle (@LoganJames) July 2, 2017
Related:
If you haven't checked out and liked our Facebook page, please go here and do so.
Want to teach your kids about the Good Guys with Guns? I wrote the books on that:
Good Guys With Guns At Home and Good Guys With Guns Abroad are both available on Amazon.com and through my website, SusanSwift.net