Politics
Find Out Why Some Are Calling Gettr The 'Twitter Killer'
GETTR.com, the newest social media site aimed at conservative audiences, is off to a strong start. Americans for Limited Government (ALG) joined during the site's beta launch last week. GETTR looks and feels like Twitter, with posts and trending topics, but advertised itself on the Google and Apple app stores as "a non-bias social network for people all over the world." It is the 17th most downloaded free app according to AppAnnie.
That means more people are downloading GETTR than Facebook and Twitter this week. The site was started by former President Donald Trump's senior advisor Jason Miller in response to Big Tech censorship of Trump.
"GETTR is really easy to use and seems to be glitch-free," said ALG communications coordinator David Potter. "We were doing really well on Parler last fall and growing our following very quickly, but then Big Tech shut them down," Potter explained. "We are excited to have a new platform that we hope will be a strong online gathering place for people who value freedom and limited government."
Rick Manning, ALG President, said increasingly Americans are being forced to walk on egg shells in an effort to avoid being cancelled on Facebook, Twitter and YouTube. "What we've seen in the past year from Big Tech tyranny has been outrageous," Manning said. "It is nothing short of a bid for one-party rule and it most not stand."
We know that many of you have similarly been looking for alternative social media sites in recent months, and may be frustrated with Parler. Consider checking out GETTR. Former Trump advisor Steve Bannon called GETTR the "Twitter killer" this week past weekend on his GETTR account.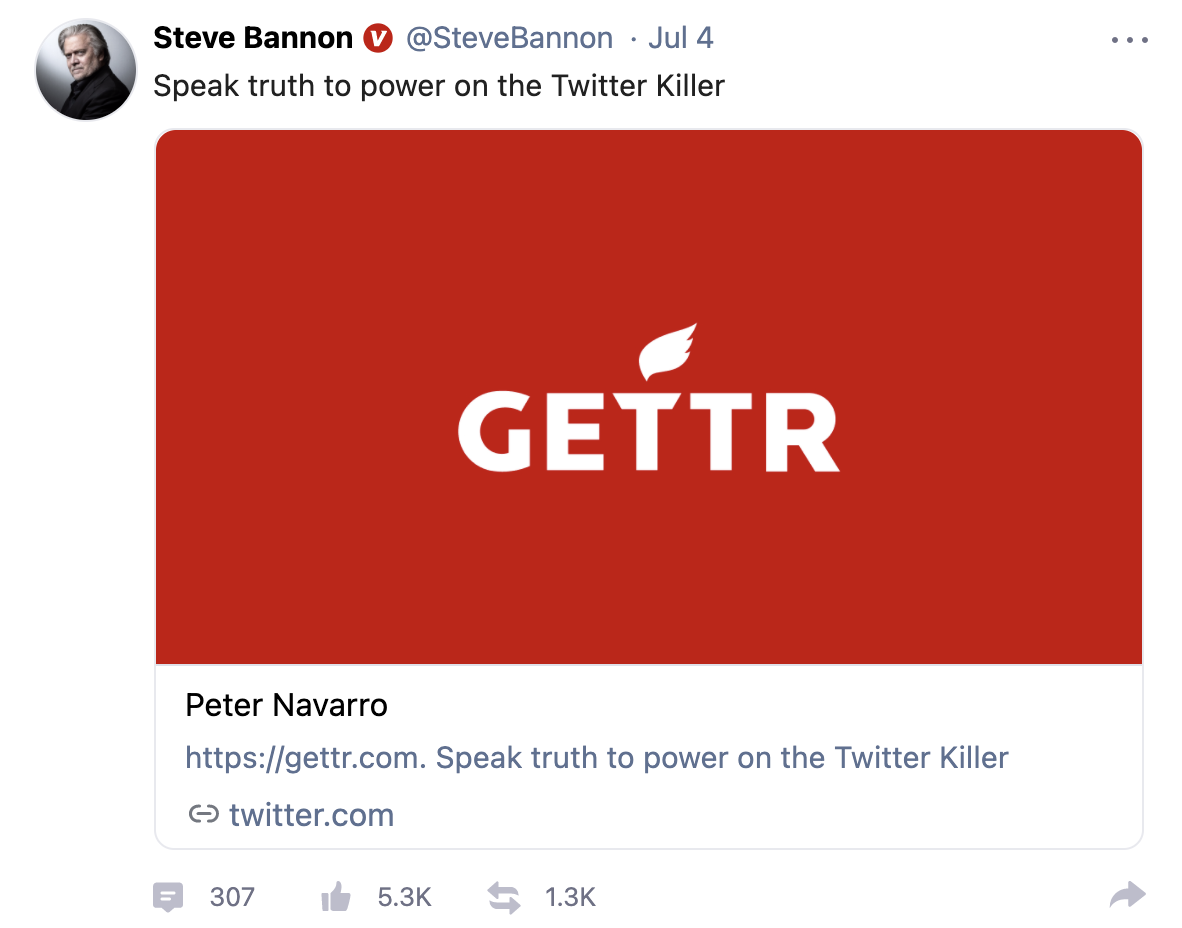 As for former President Trump's involvement, Bloomberg news reporter Jennifer Jacobs said Trump does not have any financial stake or participation in GETTR and is still planning on launching a separate platform.
News: Trump isn't joining Jason Miller's new social media platform, Gettr — won't have any financial stake or participation, I'm told. Apparently the ex president still has plans for a separate platform. Unclear what exactly.

— Jennifer Jacobs (@JenniferJJacobs) July 1, 2021
Restoring constitutional limited government, free speech and ending cancel culture will not happen overnight, and we need to build our platforms so that our voices can be heard when they matter the most.
Together, we can carry the limited government movement forward into a brighter tomorrow. Big Tech Tyranny will not threaten the Constitution for long.
Catherine Mortensen is Vice President of Communications at Americans for Limited Government.
Cross-posted with The Daily Torch
Related:
Turn your back on Big Tech oligarchs and join the New Resistance NOW!  Facebook, Google, and other members of the Silicon Valley Axis of Evil are now doing everything they can to deliberately silence conservative content online, so please be sure to check out our MeWe page here, check us out at ProAmerica Only and follow us at Parler, Social Cross and Gab.  You can also follow us on Twitter at @co_firing_line, and at the new social media site set up by members of Team Trump, GETTR.
While you're at it, be sure to check out our friends at Whatfinger News, the Internet's conservative front-page founded by ex-military!
And be sure to check out our friends at Trending Views: