Politics
Facebook Fascists Ban Trump For Two Years Or More; Trump Responds
On Friday, Nick Clegg, Vice President of Global Affairs for Facebook, the social media site once dubbed "Iron FistBook" by cartoonist A.F. Branco, announced that former President Trump will remain banned from the left-wing social media site for a period of two years or more.
"Last month, the Oversight Board upheld Facebook's suspension of former US President Donald Trump's Facebook and Instagram accounts following his praise for people engaged in violence at the Capitol on January 6. But in doing so, the board criticized the open-ended nature of the suspension, stating that 'it was not appropriate for Facebook to impose the indeterminate and standardless penalty of indefinite suspension.' The board instructed us to review the decision and respond in a way that is clear and proportionate, and made a number of recommendations on how to improve our policies and processes," he wrote.
He added (Emphasis added):
We are today announcing new enforcement protocols to be applied in exceptional cases such as this, and we are confirming the time-bound penalty consistent with those protocols which we are applying to Mr. Trump's accounts. Given the gravity of the circumstances that led to Mr. Trump's suspension, we believe his actions constituted a severe violation of our rules which merit the highest penalty available under the new enforcement protocols. We are suspending his accounts for two years, effective from the date of the initial suspension on January 7 this year.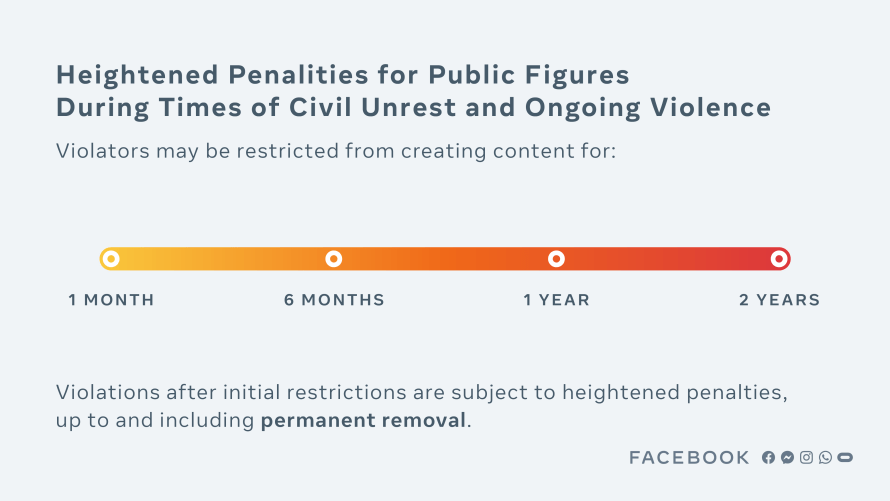 At the end of this period, we will look to experts to assess whether the risk to public safety has receded. We will evaluate external factors, including instances of violence, restrictions on peaceful assembly and other markers of civil unrest. If we determine that there is still a serious risk to public safety, we will extend the restriction for a set period of time and continue to re-evaluate until that risk has receded.

When the suspension is eventually lifted, there will be a strict set of rapidly escalating sanctions that will be triggered if Mr. Trump commits further violations in future, up to and including permanent removal of his pages and accounts.

In establishing the two year sanction for severe violations, we considered the need for it to be long enough to allow a safe period of time after the acts of incitement, to be significant enough to be a deterrent to Mr. Trump and others from committing such severe violations in future, and to be proportionate to the gravity of the violation itself.

We are grateful that the Oversight Board acknowledged that our original decision to suspend Mr. Trump was right and necessary, in the exceptional circumstances at the time. But we absolutely accept that we did not have enforcement protocols in place adequate to respond to such unusual events. Now that we have them, we hope and expect they will only be applicable in the rarest circumstances.

We know that any penalty we apply — or choose not to apply — will be controversial. There are many people who believe it was not appropriate for a private company like Facebook to suspend an outgoing President from its platform, and many others who believe Mr. Trump should have immediately been banned for life. We know today's decision will be criticized by many people on opposing sides of the political divide — but our job is to make a decision in as proportionate, fair and transparent a way as possible, in keeping with the instruction given to us by the Oversight Board.
"Of course, this penalty only applies to our services — Mr. Trump is and will remain free to express himself publicly via other means," he added.  "Our approach reflects the way we try to balance the values of free expression and safety on our services, for all users, as enshrined in our Community Standards. Other social media companies have taken different approaches — either banning Mr. Trump from their services permanently or confirming that he will be free to resume use of their services when conditions allow."
He had more to say, which you can see here.
President Trump responded to the announcement, calling it an insult to the 75 million Americans who voted for him.
"Facebook's ruling is an insult to the record-setting 75M people, plus many others, who voted for us in the 2020 Rigged Presidential Election. They shouldn't be allowed to get away with this censoring and silencing, and ultimately, we will win. Our Country can't take this abuse anymore," he said.
He also promised the next time he is in the White Huse, there will be no more dinners with CEO Mark Zuckerberg or his wife.
"Next time I'm in the White House there will be no more dinners, at his request, with Mark Zuckerberg and his wife. It will be all business," he said, according to the Gateway Pundit.

Newsbusters noted that even as Facebook has censored a former President, "it allows accounts of state-controlled propaganda outlets from the genocidal regime of China to flourish."
According to the report, "Forty accounts on Facebook, amassing over 751 million followers, are managed by Chinese state-controlled media outlets. For comparison, 751 million is over six times (6.39x) more followers than CNN, Fox News, The New York Times, ABC News, NBC News, The Washington Post and CBS News have combined (roughly 117,500,000) on Facebook."
Media Research Center President L. Brent Bozell excoriated the fascist tech giant for its decision.
"Facebook's ruling on former President Donald Trump is just the latest evidence that Big Tech wields far too much power," he said.  "Leftist Facebook executives weren't satisfied with interfering with the 2020 election. Now, they want to interfere with the 2024 campaign by knee-capping Trump before he can even get started."
Facebook's new policy for politicians sets itself as the sole ruling body determining who can campaign to its nearly three billion customers. Americans need to prove to Big Tech that we are more powerful than they are while we still can.

— Brent Bozell (@BrentBozell) June 4, 2021
The solution, of course, relies on conservatives abandoning the far-left tyrannical tech giant for platforms that respect free speech, like Parler, and others.
Related:
Turn your back on Big Tech oligarchs and join the New Resistance NOW!  Facebook, Google and other members of the Silicon Valley Axis of Evil are now doing everything they can to deliberately silence conservative content online, so please be sure to check out our MeWe page here, check us out at ProAmerica Only and follow us at Parler, Social Cross and Gab.  You can also follow us on Twitter at @co_firing_line.
If you appreciate independent conservative reports like this, please go here and support us on Patreon, get your conservative pro-Trump gear here and check out some great pro-Republican gear here.
While you're at it, be sure to check out our friends at Whatfinger News, the Internet's conservative front-page founded by ex-military!
And be sure to check out our friends at Trending Views: