Author: Adina Kutnicki
AS is said, ever dog has its day. The urgent question is: will the following (national) criminally bent dogs be brought to heel, that is, before they bring America to her knees? Well, from this highly informed perch, the assessment is: ominously, much more damage will accrue – due to their (and others) corrosive and collusive treachery – before any measure of justice is meted out. Effectively, any semblance of righting said wrongs will emanate via the public – ala a massive groundswell of wrath – as opposed to from the thoroughly compromised "justice" system. As if. Trenchantly, the crook's are in charge of "law and order."
CONSEQUENTIALLY, with a bought and paid for FBI Director at the helm – yes, he is – who exactly is going to bring him to heel, thus, rounding up the rest of the suspects, other than millions of patriots demanding his removal and more? Huh and duh?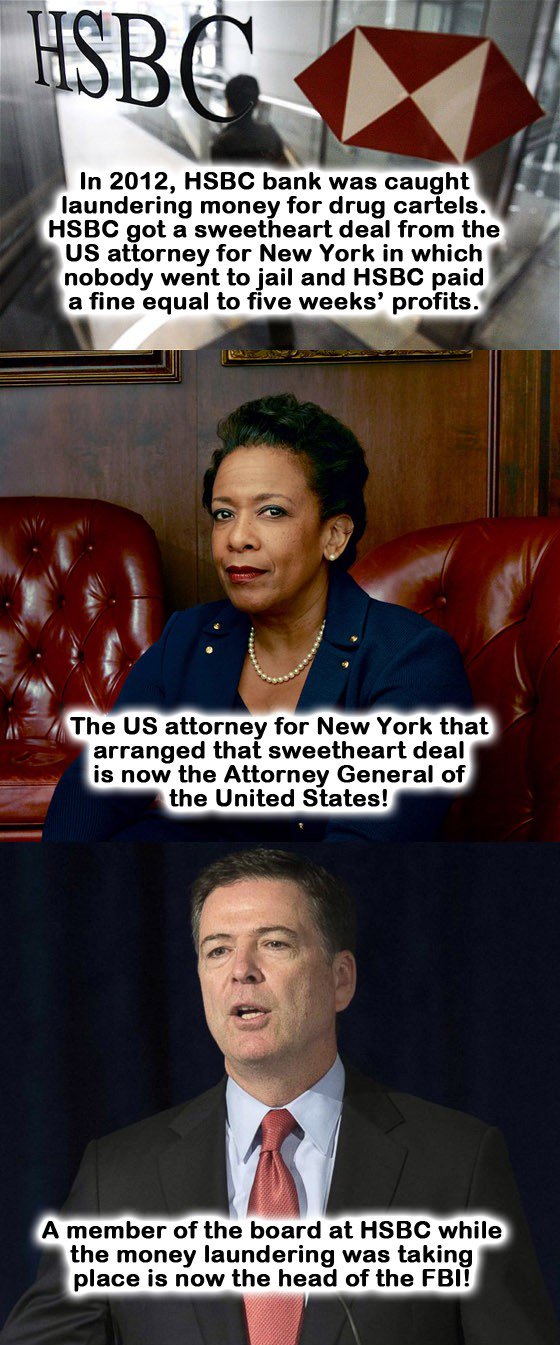 IT is along this nation-shattering trajectory that countless have been asking some very pressing questions. Inestimably, they are of national (and international) import.
ONE such query is: why did James Comey, the Director of the FBI, exonerate Hillary Clinton from the (legal) hook? Mind you, he knows full well that she (more than) meets the legal threshold for indictment, to the point of laying out a bullet-proof prosecutorial case in his testimony before Congress!
SO, what the hell is going? As an aside, forget the following spin: haven't you heard, he is reported to be an "honest" man. In a word: hogwash.
INDEED, he possesses all the requisite proofs for Clinton's indictment. Most are found within a treasure trove of emails. Trails. In tandem, as a result, a host of additional indictable offenses seep to the fore.
NOW, even though he affiliates with the Republican Party, one (of several) nonsensical mantra spins like this: indeed, he would never "take a hit" for Hill, after all, he is a Republican and she is a Democrat! Stipulated, he served under Bush as deputy attorney general under John Ashcroft for two years, but so what? Never mind. Republican slush and hush (read: criminal) money is a mirror image of their Demster counterparts. Not only that, he was appointed FBI Director (in 2013) under Obama Inc., and that's not an inconsequential factor. Think: quid pro quo. We will get to that. Incontestably, both parties are up to their necks in pay-for-play dirty dealings.
When President Obama nominated Comey to become FBI director in 2013, Comey promised the United States Senate that he would recuse himself on all cases involving former employers.
But Comey earned $6 million in one year alone from Lockheed Martin. Lockheed Martin became a Clinton Foundation donor that very year.
Comey served as deputy attorney general under John Ashcroft for two years of the Bush administration. When he left the Bush administration, he went directly to Lockheed Martin and became vice president, acting as a general counsel.
How much money did James Comey make from Lockheed Martin in his last year with the company, which he left in 2010? More than $6 million in compensation.
Lockheed Martin is a Clinton Foundation donor. The company admitted to becoming a Clinton Global Initiative member in 2010.
WITH the above build up of indictable offenses (against the obvious email suspect(s), and those who shield themselves under "legal" umbrellas), let's flesh the case out by encircling the triad; Obama Inc., Clinton Inc., and Director Comey to HSBC launderers!
HSBC enabled thousands of Americans and others – including drug traffickers, arms dealers and "wealthy power players" around the world – to avoid taxes by hiding their money in a Swiss bank they owned.
These are unscrupulous people.
So, of course, Hillary Clinton is tied to them.
However, not just Hillary, Loretta Lynch, James Comey and even Barack Obama, has ties to the criminal organization at HSBC. 
Loretta Lynch's Ties:
Loretta Lynch – then the U.S. attorney for the Eastern District of New York, Manhattan – reportedly brokered the deal with Holder, that allowed HSBC to pay fines instead of being criminally charged.  The settlement was highly criticized, and Lynch and Holder were accused of acting as if the bank was "too big to prosecute," and people likened the fine (without criminal charges) to a parking ticket.
James Comey's Ties:
James Comey was nominated by Obama for a post on HSBC's Board of Directorsin June 2012, and he was subsequently appointed to the board on March 4, 2013.  He served on the HSBC's Financial System Vulnerabilities Committee. Comey's appointment was for three years, however, he resigned effective Sept. 4, 2013, following his confirmation to serve as FBI Director.
Hillary Clinton's Ties:
Hillary Clinton also benefited from HSBC's Swiss bank account division during the same time period – leaked files revealed the identities of at least seven donors who were HSBC clients and contributed to the Clinton Foundation – to the tune of $81 million in total contributions.
It seems like every time you turn around Hillary is tied to another scandal or unscrupulous organization.
INESTIMABLY, the above is just the tip of their criminal spear!
BUT not to forgotten in the aforementioned indictments, countless are still unaware of Obama Inc.'s and Clinton Inc.'s propensity for piling up "mysterious" deaths. As always, whistleblowers who go up against their Mafia-like syndicates "coincidentally" die, just as they are about to expose all manner of criminal dealings. Adding insult to grievous injury, what are the chances that AG Lynch's Justice Department, or Comey's FBI, would have prosecuted, even had they survived to publicly record this and that? Do pigs fly? Nevertheless, death is a permanent state, hence, no (murderous) stone is left unturned.
EVEN so, that shouldn't stop the rest of us from sounding national alarms. Once again, let's just place more of the same on the record, but this time via Wikileaks and its explosive (murder-laden) email trails! 
The source of the leaks was all but confirmed by Wikileaks to have been a DNC insider and not a Russian operative. Said insider, Seth Rich, was shot and murdered in a senseless crime that many suspect was a politically-motivated homicide. The murder of a Wikileaks' lawyer also followed a few days later.
MOST significantly, it has become increasingly apparent that those in charge of America's power centers (in countless countries alike, but let's stick to U.S. hyper-bases) are criminally corrupt, never mind morally compromised. No doubt, they are gangsters in professional and political garb.
IN this regard, this investigative journalist's charge-sheet is beyond dispute. Such is the case, even first-year law students and fledgling investigative journalists can pick up their trails. Scents. They are that transparent.
CONCOMITANTLY, co-conspirators are always on hand to cover up their crimes, as well as to mislead the public in the opposite direction. Yet, there are none more dangerous than collusive media whores, many of whom are bought and paid for. This too is beyond dispute.
STILL yet, not to veer too far off course, who recalls the Oklahoma City bombing in 1995 during Clinton Inc.'s, aka Murder Inc., reign of criminal terror? Oh yeah. Just hark-back to the fabricated tales re the Murrah building's incineration (that which had so many jive-talking holes in it), and know that a fully loaded truck could have been rammed through it, with barely making a dent in the process! Mind you, countless lies were uncovered through exhaustive investigative work, much of which was conducted by Jayna Davis via The Third Terrorist. Not only that, Obama Inc. had a (cover-up) hand in it too! Indeed, less than six degrees separated.
THE point being, if someone truly wants to get to the bottom of officialdom's cesspool, there is no better place to start wading through, other than into Obama and Clinton Inc.'s cesspool of muck. Of course, expect that the FBI's higher-ups will execute their "due diligence", as they perpetrate the requisite cover-ups! 
AND the very fact that HSBC banksters – a veritable jacked-up laundering financial conglomerate, a slush house – are part and parcel of the aforementioned, it tells us that America's power brokers are wholly and irredeemably compromised. So much so, even the head of the FBI has no compunction about ignoring his sworn duty to uphold the Constitution, the laws of the land. His lies, Obama and Clinton Inc.'s alike, are akin to what transpires under third world juntas, reaching to the point of criminal misconduct which would land average folks in jail for many decades to come. No parole.
CAPITAL CRIMES.
REST assured, let it be known: this investigative journalist knows her way around the laundering terrain, and this doesn't refer to the dry cleaning business! 
RESULTANT, due to the above and so much more, why should anyone trust the lying and mendacious media, let alone obey any of the powers that be? Rhetorical!