Politics
Bloomberg-Funded Group Says Trump Could Win in Landslide On Election Night, But Biden Could Win Days Later Thanks To Mail-In Ballots
In an interview with "Axios on HBO," Josh Mendelsohn, CEO of Hawkfish — a company funded by Bloomberg that works for various pro-Biden super PACs, said President Trump could appear to win in a landslide on Election Night, but that election could be flipped days later, thanks to mail-in ballots.
Mendolsohn called this a "red mirage."
"The reason we talk about a red mirage is in fact because we believe that on election night, we are going to see Donald Trump in a stronger position than the reality actually is. We are sounding the alarm and saying that this is a very real possibility, that the data is going to show on election night an incredible victory for Donald Trump. That is likely to be what we see," he told Axios.
take our poll - story continues below
Is Biden's Vaccine Mandate Unconstitutional?
Completing this poll grants you access to Conservative Firing Line updates free of charge. You may opt out at anytime. You also agree to this site's Privacy Policy and Terms of Use.
According to Breitbart:
Mendelsohn claims it could take weeks before Trump's election night victory is chipped away at by mail-in votes that will show Biden as the winner.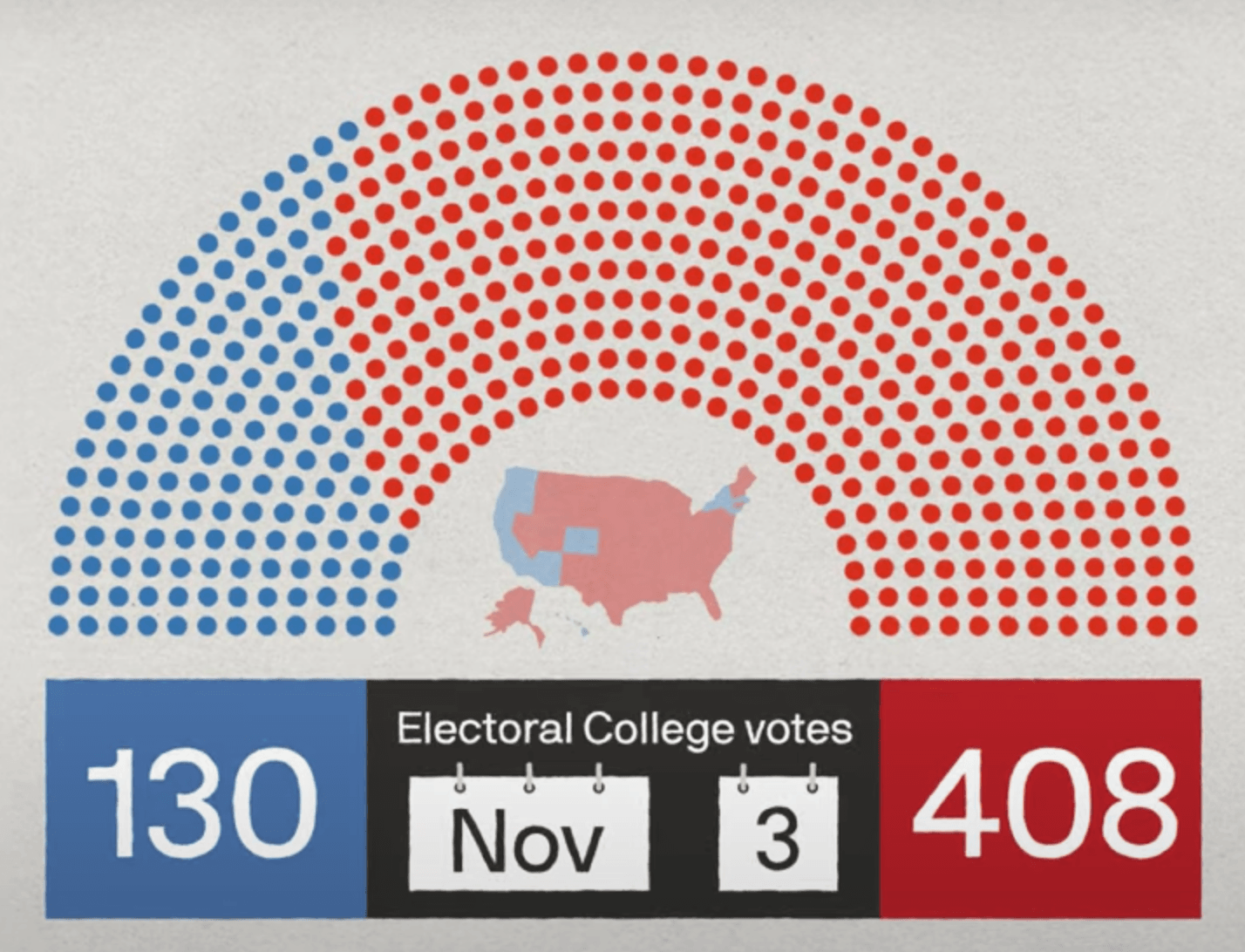 "When every legitimate vote is tallied and we get to that final day, which will be Sunday after election day, it will in fact show that what happened on election night was exactly that, a mirage. It looked like Donald Trump was in the lead and he fundamentally was not when every ballot gets counted," he added.
This, Breitbart says, comes "as a Democrat operative detailed large-scale mail-in voting fraud conducted for years by him and staff in states like New Jersey, Pennsylvania, and New York. Part of the operation includes rigging elections for Democrats through paying homeless voters off, taking advantage of the elderly, posing as registered voters, and printing up fake ballots."
Axios noted:
Between the lines: Hawkfish is not just trying to educate the public about the possibility that Trump could prematurely declare victory, or try to delegitimize a Biden victory if it took days or weeks to determine.

The group is also trying to sensitize state and county elections officials, news and social media organizations, and the courts to the perils of premature results — and to the possibility of Trump and his team applying challenges and political pressure to reject a high share of mailed-in ballots counted after election day.
And the group is warning voters that rejection rates for mail ballots are higher than in-person voting.
To avoid having their votes thrown out, Hawkfish is advising voters to be extra careful about voting early enough and following all the instructions to the letter — or, potentially, putting on masks and gloves and going early either to safely vote in person or return the mail ballot in person.

Methodology: Hawkfish surveyed 17,263 registered voters in 50 states and DC, July 1-Aug. 16, 2020, to assess who people planned to vote for and whether they intend to vote by mail or in person at a polling place.
Responses were filtered for those described as definitely voting or likely to vote and weighted for state and national registered voter demographics.

The scenarios assumed votes at polls would be counted on election day itself (Nov. 3). A scenario taking a week to count mail ballots would translate to approximately 15% per day on average.

In another scenario, mail ballot counts took four days at 25% per day. For states that have had high vote-by-mail participation rates, Hawkfish assumed they would take two days.
Here's video:
It's clear to us that Democrats and their allies in the lying liberal media will pull out all the stops to get Biden elected.  That's why it's important that EVERY freedom-loving patriotic American get out and vote.
Related:
If you haven't checked out and liked our Facebook page, please go here and do so.  You can also follow us on Twitter at @co_firing_line.  Facebook, Google and other members of the Silicon Valley Axis of Evil are now doing everything they can to deliberately stifle conservative content online, so please be sure to check out our MeWe page here, check us out at ProAmerica Only and the new social site, Hardcore Conservatives.
If you appreciate independent conservative reports like this, please go here and support us on Patreon and get your conservative pro-Trump gear here.
While you're at it, be sure to check out our friends at Whatfinger News, the Internet's conservative front-page founded by ex-military!
And be sure to check out our friends at Trending Views: